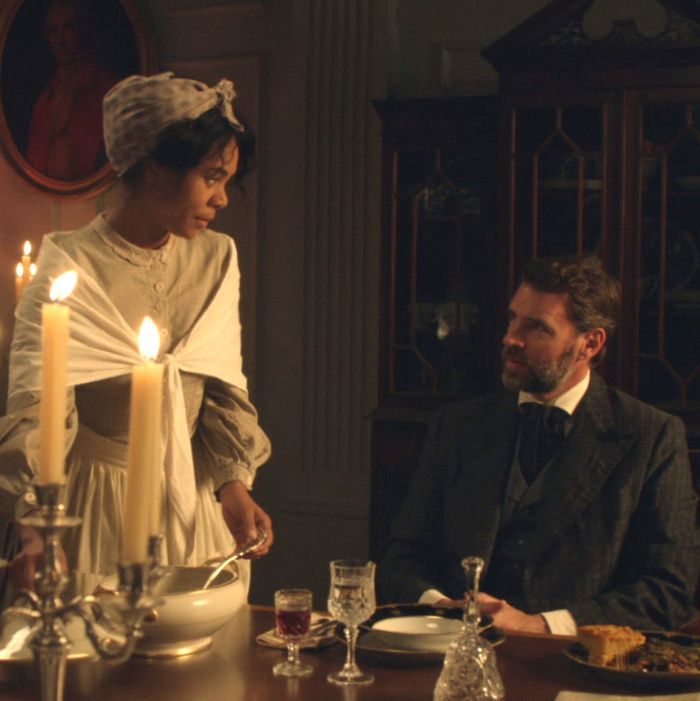 Even in a world with too many TV shows to keep track of, there are a few that still demand appointment viewing: Game of Thrones, or the block of Thursday night Shondaland series, or maybe Due North. You might not have heard of that last one, but in the world of HBO's Insecure, Due North is must-see TV. A soap set in the pre–Civil War South, it stars Regina Hall as a slave named Ninny, Scott Foley as the master she's in love with, and there's even a consumptive child watching everything from the shadows.
So far, we've seen a few glimpses of Due North in the background of Insecure's second season, but there's a lot more coming. "When we first sat down, we wrote 13 full episodes," Natasha Rothwell, one of the two Insecure writers tasked with developing the show-within-a-show, told Vulture. "In the coming episodes, you'll see Insecure the show progress, but you'll also see Due North, the show-within-the-show, progress," said Ben Cory Jones, the other Insecure writer behind the project.
Due North started out as a writers-room joke about a fictional romance between their Insecure co-workers, Ben Dougan and Dayna North. Simultaneously, while breaking stories for Insecure's second season, the writers started putting together scenes where the characters were watching TV, partially inspired by their own obsessions with shows like Big Little Lies, The Americans, and Stranger Things. "Because of the great successes of shows like Empire on Fox and Underground," Jones said. "We were like, 'What if there was an Empire-Underground?"
By the time they reached table reads, they wrote the characters' reactions to the show, but not the show itself. When those character reactions killed — Chad shouts, "Oh bitch, let the bitch read!" when a master catches a slave reading, for instance — showrunner Prentice Penny assigned Rothwell and Jones the duty of actually making Due North.
With HBO's support, Due North was produced much like an actual show, with its own dining room and slave-quarter sets, a director in Pete Chatmon, and a top-flight cast in Hall and Foley. The two actors were Rothwell and Jones's first choices for the project, though they never expected to get them. Luckily, both were fans of Insecure and they connected to the Due North satire, which sends up both the tropes of prime-time dramas and the ways people talk about the antebellum South. "It's a comical take on it, but it is a look at the power structures that were set up during slavery," Jones said. "That show would probably never happen on real network TV, but because we have this playground on the show within the show, we felt like we could play it off."
You might also see Due North as a parody of a Shonda Rhimes show that Shonda hasn't actually written yet, and in this, it feels like a kindred spirit to Defamation, the send-up of Scandal that appeared in Netflix's Dear White People. Rothwell and Jones said they didn't look at what other series had done, but were nevertheless flattered by the comparison. "We're truly proud to be in the company of Dear White People, who do a show within a show, and Atlanta when they did their commercial episode," Jones said. "I always thought that black shows are challenging the paradigm of what a half-hour comedy has to be, so we love to be in the company of both of those shows."
So, what's coming next on Due North? The show-within-a-show will serve up some serious relationship drama, a "Real Housewives moment," and a character who's always eating pie for no discernible reason. "It feels so subversive and it's naughty to approach this topic of history with this irreverent tone," Rothwell said, "I think that's really fun for the characters of Insecure to watch and it was sure as hell fun to write."