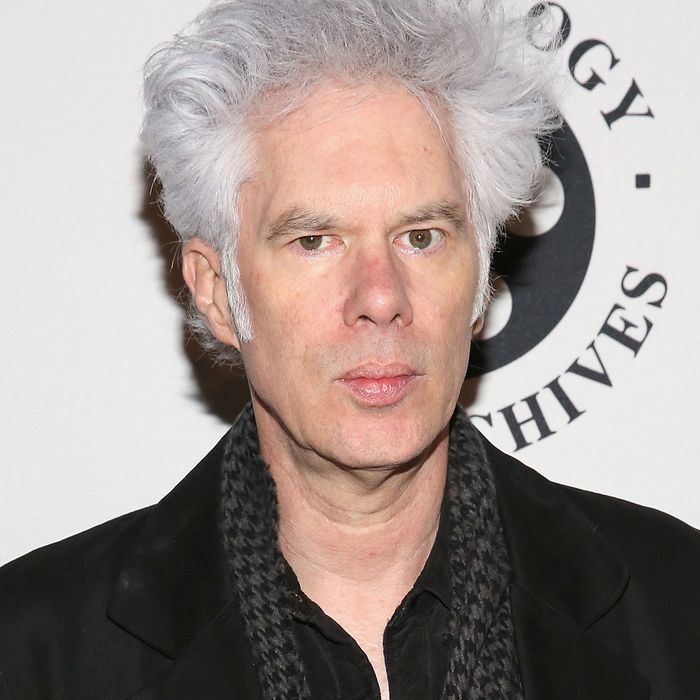 Jim Jarmusch.
Photo: Monica Schipper/Getty Images for Anthology Film
As a denizen of early-'80s New York, director, producer, and musician Jim Jarmusch's interdisciplinary appetite was influenced by the city's melding of hip-hop and punk and by no-wave films and the cinema of transgression. As the city's creative class embraced collaboration and experimentation, working within one genre took a backseat to focusing on the feelings, and intentions, they produced. Following suit, Jarmusch's approach to making both filmmaking and musical composition continues a distinctly New York hybrid between street culture and the avant-garde. No matter his medium, he continues the practice of staying open to the boundless creativity happening all around him, and crafting his own, distinct visions from all that inspiration.
From singing and playing keyboards with short-lived no-wave band The Del-Byzanteens in the early '80s, Jarmusch went on to write and direct celebrated films that ooze minimalist cool, cutting his vast network of musical friends, and their tunes, into the picture.
1986's Down by Law cast Tom Waits as an escaped convict and used tracks from his classic Rain Dogs, while 1989's Mystery Train featured late Clash front man Joe Strummer and late blues shock-rocker Screamin' Jay Hawkins in prominent roles. Neil Young wrote the score to 1995's Dead Man, which also starred Iggy Pop (whom Jarmusch would later honor with his 2016 Stooges documentary, Gimme Danger) alongside Johnny Depp. Jarmusch also captured the spiritual philosophy underscoring the Wu-Tang Clan in 1997's Ghost Dog: The Way of the Samurai, and RZA wrote the score. Waits, Pop, and RZA also appeared in 1999's Coffee and Cigarettes.
But it was another member the Coffee and Cigarettes ensemble who convinced Jarmusch to return to playing music: Jack White enlisted him to craft a remix for the White Stripes' "Blue Orchid" single in 2005. Since then, Jarmusch has steadily collaborated with Dutch lute player Jozef van Wissem on two albums for Sacred Bones records, and evolved his project SQÜRL into a band that flirts with seemingly disparate, esoteric genres like drone and post-rock to soundtrack a spiritual state of mind — a term dubbed "ecstatic music."
SQÜRL began under the name Bad Rabbit in 2009, when Jarmusch and producer Carter Logan decided to soundtrack Jarmusch's The Limits of Control themselves after unsuccessfully sourcing other music for the film. Together with sound engineer Shane Stoneback, they've since released three EPs and scored Jarmusch's 2014 vampire flick, Only Lovers Left Alive, along with his story about a bus-driving poet, 2016's Paterson.
SQÜRL remain busy — their fourth release, the numerology-focused EP #260, is out July 14 on Sacred Bones, and their Paterson soundtrack will soon be released on Jack White's Third Man Records — inviting curious listeners into the space where their music's genre labels become far less relevant than the state of heightened awareness it creates.
Vulture caught up with Jarmusch and Logan to learn how they embrace contradiction through film, sound, time, and space, creating ecstatic music across multiple disciplines.
How did SQÜRL form?
Jim Jarmusch: When we were putting music together for The Limits of Control, I was trying to source the score from existing music, and there were just certain places in the film where I couldn't find what would work quite right. So we decided to make it ourselves. Carter and I did the same thing with the score to Paterson, which we made electronically. After Limits of Control we just decided to keep making music as a band, so we did three EPs, the soundtrack to Only Lovers Left Alive with Jozef van Wissem, and continued after that when we scored Paterson.
We have another film we're gonna do, and other projects as SQÜRL up our sleeve. I'm preparing a small recording studio now where we can work easily, so we're just continuing more as a band. But we really like this new EP being instrumental, and, I don't know, we got inspired. I'm talking too much, and leaving out that we do live scores to Man Ray's films.
Those live scores are more in the vein of this new EP, right?
Jarmusch: A bit, but you know, when we went off and played as SQÜRL doing the live score, we started talking a little bit between us about "ecstatic music." We realized Swans were definitely "ecstatic music," and a lot of other different music that we heard.
Carter Logan: Right, Terry Riley is definitely ecstatic music in the same way that Swans are.
Jarmusch: Well, it could be old music like [German Benedictine saint, composer, and mystic] Hildegard von Bingen. Or it could be [drone-metal band] Sunn O))). It's not the noise factor so much as the intention to — without being pretentious — almost be spiritual.
That's the point where the genre becomes immaterial?
Logan: Yeah. It's more about the intent to elevate through sound some level of consciousness or understanding that transcends genre.
Jarmusch: And it happens in trance music, it happens in [Moroccan mountain band] the Master Musicians of Joujouka, it happens in modern classical music like Morton Feldman, it can happen in very old, 16th-century polyphony, it can happen in so-called avant-garde "post rock," which is what SQÜRL is if you have labels on these things.
Jozef once said you make films like a musician. Is the inverse also true? Do you make music like a filmmaker?
Jarmusch: I find it hard to be self-analytical. I know that the music SQÜRL is doing now, and planning, is a bit more like making movies that are no imagery, just aural. For me they're so interrelated that it's hard to analyze.
Logan: Doing that Man Ray project is another way that our consciousness got realigned [to] how moving images and sound work together. The Paterson score grew out of that as well as this material. Despite the fact that some of it is louder, or softer, we're using a lot of the same instruments.
Working with silent film and trying to build something around it, we're not trying to do a Mickey Mouse-ing of the score. These are very out there films — sometimes they require a delicate touch and sometimes they need to be more forceful — but over the course of doing them, we discovered the films were kind of the third band member onstage. So we're interacting with each other, and also the film, at the same time. The only difference is, Jim and I are constantly changing what we're doing, and the films don't really change. But our perception of them does. We've watched them over and over and I still find new things that are inspiring.
Jarmusch: We've realized that when we play as SQÜRL in the future, we want to have something visual behind us. We do not like being the show when we play live. We don't like having a spotlight put on us if one of us is singing. In Iceland we had so much smoke machine I could hardly see Carter right next to me at a certain point. But the visual part of our presentation is already verging on a cinematic thing.
Jim, you wrote in the press materials for EP #260 that this number is contradictory and imperfect. Do you care a lot about numerology?
Jarmusch: Part of it is just a gag, in a way, but it's not completely. We are very interested in contradiction and mathematics, for sure — we love Fibonacci numbers and stuff like that, however we're the farthest you could possibly be from so-called "math rock" — you know what I mean? It's sludge, not trigonometry.
Logan: A lot of it has to do with the cyclical and interconnected nature of life and the universe for us in a farther out way. Not really focused on the minutiae of numbers, but the idea that things repeat over and over again throughout nature, mathematics, and our own personal experiences in the world. To that degree, it's in our music, too.
There's that scene in Mystery Train where the Japanese tourists are looking at pictures of Elvis on the floor of the hotel, and comparing him to pictures of Buddha and Madonna, right?
Logan: And the Sphinx, yeah.
So there are these seemingly far-off connections between disparate things across time and history, in patterns that emerge in both your music and your films?
Jarmusch: Yeah, those things guide me sometimes. In Paterson, for example, there are scenes of twins in the films that weren't in the script. But for some reason, while preparing the film I kept seeing twins. And with some of the extras, they were bringing twins. I thought something was telling me the twins needed to be in.
Things like that happen to me a lot. In Dead Man we refer to William Blake, and at the time I was reading Black Elk and a bunch of Native American stuff, then William Blake sounded so connected that he somehow just entered the script while I was writing it. Sometimes it's important to just have antennae and let things come to you without really understanding what they mean. But the connections become fascinating, circumstantial, and sometimes not analyzable.
[Musician] Black Marble told me he remembers your birthday party years ago, around the late '80s. He saw Martial Canterel playing an elaborate analog synth in your bathroom, and that evening greatly inspired his own body of work. How transformative was that period in New York music history, when punks started playing synthesizers? It seems to explain a lot of the different sounds that SQÜRL embrace. Did those days leave any lasting impression on your creative mind?
Jarmusch: Yeah, completely, for various reasons. One being that people were inspired by just wanting to express themselves, not by career moves or it being commercial. That was a big inspiration. But also, the kind of cross-pollination of so-called post-punk at the same time as early hip-hop, graffiti, and all those incredible things swirling around is still so deep in me. I love hip-hop culture and the history of graffiti. All those things were just formative for me.
It seems you could easily work across mediums back then without having to explain yourself as both a filmmaker and a musician.
Jarmusch: That's true. And if you're known for one thing then people kind of treat you as a dilettante, which for me is not an insult. But some people think Lou Reed's photographs are secondary to his songwriting because we know him first as a songwriter. It's a close-minded way to look at creative people and their outlets.
You two work together, and seem to keep a lot of the creativity in-house, bringing friends back for certain projects. But Soho isn't what it used to be — artists aren't getting certificates from the city to pay subsidized rent. La Monte Young isn't running around town anymore. How do you keep that incubator spirit intact and stay open?
Jarmusch: We all have a lot of input. We see art, we see a lot of movies, live music, we read books. And not, "How can I apply this to my career?" If something strikes you as moving, you keep it in you. It becomes part of you.
Logan: You have to build that circle of people with that mentality around you, too. I had no idea, I went out to a talk and ran into a production designer we've worked with several times, Mark Friedberg, there. And five other people that I knew, colleagues from work and music, whatever it is. You build out your universe of people who like to expose themselves and share new ideas with each other. It's essential. A lot of that happens online now.
Online correspondence is often about speed and expediting things, though, and you both seem to work at a much slower pace.
Jarmusch: I don't know. I don't think of the rhythm that's expected. Carter and I just try to find our own rhythms in the music, and it's more an instinctual thing than something premeditated. I talk slow, I love music, so maybe I have a slow rhythm in me? I like fast stuff, too, but I don't really create fast things.
You said La Monte Young's not out running around, but if you hang around, I just saw [photographer and filmmaker] Robert Frank on the street the other day. I've run into [former Suicide member] Martin Rev or [famed subway graffiti artist] Lee Quiñones, you know what I mean? There's still people out there. [Filmmaker] Jonas Mekas is still out there.
Are there more venues and places in New York for people to make weird work than there used to be?
Logan: The new music world is thriving, and there are new, exciting places for performance popping up and closing down daily. I play in another band, the Space Merchants, with a greater frequency than SQÜRL, and we play a lot of DIY venues that are around for a year and then close. The city is a microcosm and it continues to grow with tendrils spilling out in all directions.
Jarmusch: I agree. Again, you just have to have antennae. There might be a band at Saint Vitus or Baby's All Right. We saw Ty Braxton at the Spring Break art show. Where's something interesting? I think that's always been the case. In the late '70s all these places changed, too. Danceteria didn't last that long, or Tier 3, or the Mudd Club.
Logan: Yeah, the legendary period of CBGB was like three years [laughs].
I've heard that by 1976, Macy's was already selling pink spandex shirts with safety pins in them.
Jarmusch: Well, as things shift in real estate, that's how culture shifts. You can chart the West Village in the '50s and people moving to Soho, which was an abandoned industrial place in the early '70s, you know? It always shifts. Somebody said to me a few months ago, "The East Village is the new Williamsburg!" [Laughs.] It's just a cyclical thing that happens, but New York's always been about real estate, so culture follows that in an odd way.
It's about staying open to those loops and patterns before they eat themselves.
Jarmusch: Yeah, it's a puzzle.
This interview has been edited and condensed.