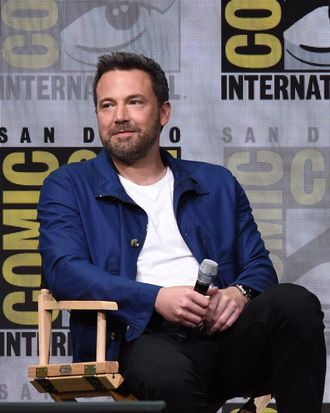 Ben Affleck.
Photo: Kevin Winter/Getty Images
The biggest news about the DC cinematic universe didn't break today at Warner Bros.' Comic-Con panel. Instead, it came yesterday, when The Hollywood Reporter alleged that Ben Affleck may soon stop playing his biggest role. "The studio is working on plans to usher out Affleck's Batman," wrote THR's Kim Masters, adding that "it would be wise to bet against Affleck starring in The Batman," an upcoming, stand-alone Batman film that will be directed by War for the Planet of the Apes helmer Matt Reeves (who took over after Affleck abdicated the director's chair).
If true, it would be a major departure for the still-nascent DC cinematic universe, which began in earnest when Affleck signed on to last year's Batman v. Superman: Dawn of Justice. And so, when Affleck arrived in Hall H today to tout this November's Justice League — which will team up Gal Gadot's Wonder Woman, Jason Momoa's Aquaman, Ezra Miller's Flash, and Ray Fisher's Cyborg — moderator Chris Hardwick asked him to clear up the rumors.
"Let me be very clear: Batman is the coolest fucking part in the universe," said Affleck. "I'm thrilled to do it."
Would he depart the franchise before the stand-alone Batman film gets underway? "I would be a fucking ape on the ground for Matt Reeves," cracked Affleck, "let alone Batman."
"Don't believe the hype," added Miller.
We'll see whether Affleck's enthusiastic but not entirely Sherman-esque denial bears fruit. Justice League has been an unusually difficult shoot: Director Zack Snyder took a leave of absence from the film to deal with a family tragedy, and The Avengers helmer Joss Whedon came onboard to man extensive new reshoots that could constitute more than an hour of the final cut. Add to that a troubled, tabloid-dogged leading man, and Warner Bros. probably just wants to get the movie in the can before figuring out the next move. The studio is also rumored to still be in negotiations for Patty Jenkins to direct Wonder Woman 2, a priority deal that many expected would be announced today.
At least Warner Bros. can rely on that film's newly minted superstar Gadot to shoulder more of the promotional duties for Justice League. Indeed, at the Hall H panel today, it was Gadot who seemed to step up as the leader of her cast, wrangling their funny asides and fielding her fair share of audience questions. (Several of the fans who came to the microphone were dressed as Wonder Woman). For the most part, Affleck just sat back and watched the rest of the actors banter, though at one point, he stopped the proceedings to look out into the audience.
"I just want to take one second to just absorb this, because it's really, really great and so exciting," said Affleck. "How many people in their life get to come to Hall H and say, 'I'm Batman?'"
"I'm Batman!" yelled Miller, trying it out. "That was fun."
"I'm gonna say it, too!" said Fisher. "I'm Batman, too. I'm Batman."
They were joking, but it was still a reminder that if Affleck does soon step away from the role, plenty of actors would be thrilled to don that cowl.