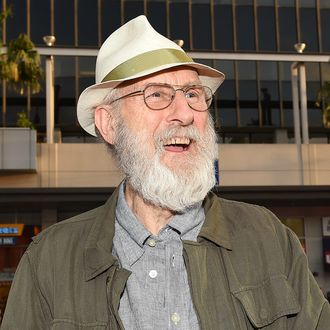 Photo: Kevork Djansezian/Getty Images
Your boy James Cromwell has once again doubled down on his commitment to not give a damn. According to Variety, the Babe actor was reportedly arrested Monday for protesting SeaWorld San Diego's "Orca Encounter" killer-whale show. The Oscar winner, clad in a "SeaWorld Sucks" shirt, joined a PETA group in attempting to disrupt the performance; the group livestreamed the protest on Facebook. PETA alleges that Cromwell and others were taken into custody after being removed by security.
SeaWorld has attempted to rehabilitate its image in recent years, damaged as it was following the release of the 2013 killer-whale documentary Blackfish. The San Diego park ended their "One Ocean" orca show in January, replacing it with a new show focused more on education and less on requiring sea mammals to perform tricks. "Orcas deserve a full life in the ocean, not a life sentence of swimming endless circles until they drop dead from disease," Cromwell said in a statement. "My friends at PETA and I want SeaWorld to move these intelligent animals to seaside sanctuaries without delay." In June, Cromwell was sentenced to seven days in jail after refusing to pay fines stemming from a 2015 power-plant protest in Wawayanda, New York, because this is what James Cromwell is all about now.