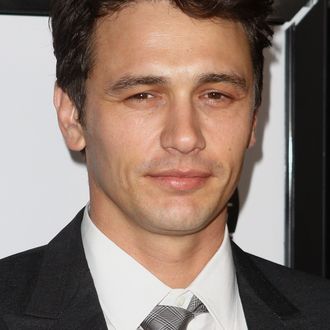 We may never know if he pulled off the accent.
Photo: JC Olivera/Getty Images
James Franco has always been one to go the extra mile, and it sounds like his latest directorial effort, The Disaster Artist, was no exception. That's at least according to cast member Jason Mantzoukas, who, in an interview with EW, said that Franco helmed the entire film in the voice of director Tommy Wiseau. (The film, to be released December 1, explores the making of Wiseau's legendary bomb, The Room.) "Franco directed the whole movie in character as Tommy Wiseau," Mantzoukas explained. "Well, I should amend that — he wasn't in character as Tommy Wiseau, but once he started the day doing Tommy's voice, he would spend the rest of the day doing the voice. So, it wasn't like he was pretending to be Tommy, but it was like James using Tommy's speech pattern and accent. It was really special and very funny."
Wiseau's accent is, of course, infamously hard to place; it sounds vaguely Eastern European, but the director has long preferred to keep his origin story secret. Accordingly, it's been the subject of much sleuthing and theorizing over the years. And its sharpness is pretty undeniable. So if you'd like a better idea of whatever this filming experience turned out to be, you can listen to some of Wiseau's greatest Room hits below, and then imagine Franco directing the likes of Seth Rogen, Bryan Cranston, and Sharon Stone — yes, they're all in The Disaster Artist — while attempting to create such a distinct, likely distracting impersonation.