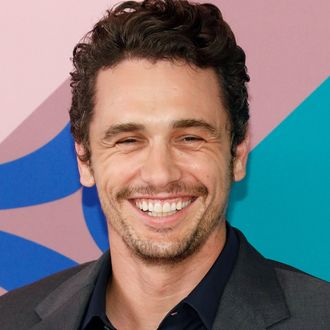 James Franco, drifter.
Photo: Taylor Hill/FilmMagic
The Coen Brothers' anticipated six-episode Western anthology series The Ballad of Buster Scruggs is reportedly close to casting James Franco for what sounds like a very James Franco role. According to the Tracking Board, Franco will star opposite Ralph Ineson and Stephen Root in the "Near Algodones" installment, playing "a high-plains drifter whose own fecklessness dogs his attempts at bank robbery and cattle driving." (Others cast in the series include Tim Blake Nelson, Tyne Daly, and Zoe Kazan.) Setting aside the wonderful image of James Franco haplessly herding cattle for a moment — let's hope he hasn't shaved that '70s mustache just yet — the news comes on the heels of Franco completing filming on about a dozen other projects that are awaiting release, including David Simon's HBO drama The Deuce and his own (apparently quite good) film The Disaster Artist, based on the making of The Room. So to keep track: Within the next year or so, we'll see Franco immerse himself in the world of '70s porn, re-create the bizarre accent of Tommy Wiseau — he at least got some extra practice on that one — and play a feckless drifter under the direction of the Coens. Dare to predict what's next?