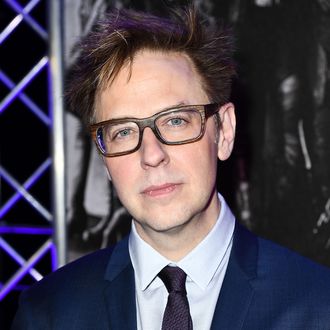 James Gunn.
Photo: Ian Gavan/Getty Images for Disney
In a new interview with GQ, a collection of some of the most desirable directors in Hollywood sat down to talk about the present and future of cinema. Ava DuVernay, Cary Fukunaga, Dee Rees, James Gunn, Jeff Nichols, Taylor Sheridan, Edgar Wright, Patty Jenkins, and Bong Joon-ho all contributed to the conversation covering hot-button issues defining the entertainment landscape. Will the theater experience be obsolete? Can one truly exercise creative control within the studio system? Is it better to work with larger or smaller budgets? How do new content platforms affect the creation of art? Is James Gunn having sex with raccoons? Well, that last question wasn't so much a pervasive part of the "roundtable" as it was a minor digression. While talking about the time he almost quit directing for good right before he was put in charge of Guardians of the Galaxy, Gunn brought up his affinity for raccoons, and then had a small exchange with Edgar Wright that went like this:
Gunn: Two weeks before I got Guardians of the Galaxy, I called up my agent and I quit film directing. I'm like, "I want to be relevant." You know? "The only thing people are going to see are Marvel movies, and nobody's gonna give me a Marvel movie." And it was two weeks later that I got the call that "Hey, come in and talk to us about doing Guardians." And I went down there, and I was like, "Oh shit. I was fucking created in a laboratory to create this type of movie: I love fuckin' raccoons, I love space operas, and I love comic books." It was what I was made to do.

 

Wright: "I love fucking raccoons" is not going to look good in print.

 

Gunn: I have never actually fucked a raccoon. I swear.
So there you have it. For the record, the director of Guardians of the Galaxy has never gotten to know the animal kingdom's most charming little dumpster divers in the biblical sense. We can all rest easy.