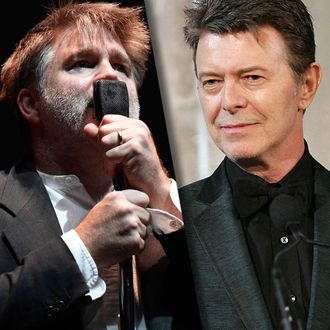 James Murphy and David Bowie.
Photo: Getty Images
Remember that time James Murphy said he was quitting music for coffee? Naturally, when the LCD Soundsystem front man got the band back together five years after his purported venture into the world of caffeinated drink (and the MTA, which still really needs help), he received a lot of flak, as well as some cheers. Putting fans on an emotional roller coaster will do that, but given all of the new music and touring that's been done, most have seemingly moved on from questioning the ethics of the reunion — except for Murphy himself.
Stereogum points out that in a recent interview with BBC 6, the singer-songwriter recalled how the late, great David Bowie was the one who pushed him to reunite his band. Bowie said Murphy ought to do what makes him feel "uncomfortable," meaning reunite. It should be recognized that the Thin White Duke spent his entire career pushing the boundaries of music and performance — often shocking and confusing fans — yet still, James, must Bowie really be dragged into this? Read Murphy's quote below and make up your mind for yourself.
I spent a good amount of time with David Bowie, and I was talking about coming back, putting the band together. And I was going through the hems and haws of it, and he said, "Does it make you uncomfortable?" And I said, "Yeah," and he said, "Good. It should. You should be uncomfortable." And the first thing that popped into my head was, "What the? What do you know? You don't know what it's like to be uncomfortable." That was my thinking. Because of course I'm imagining that if I was David Bowie, I'd just be walking around flipping everybody off, like, "I'm David Bowie!" Like, nobody can say anything! Unless maybe Lou Reed's there, and then he can be like, "Alright." There are maybe one or two people that get to literally not — nothing can be said about them. But that's not who he was ever in his life. He was always making himself uncomfortable. And it was such a great feeling of, like, you just don't know what you are to anybody else.