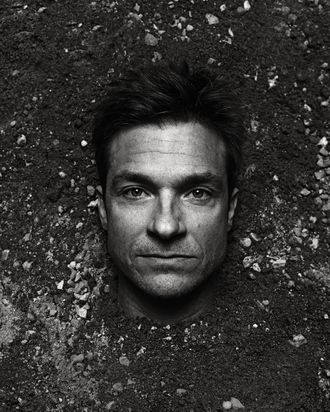 Jason reborn.
Photo: Amanda Demme
"Maybe they took swings at bigger names before calling me," says Jason Bateman. "That's what I would've done." He grins. Dressed in a thin blue sweater and light-gray pants, the boyish and charmingly blithe 48-year-old actor is sitting on a couch at the sun-splashed, celebrity-dappled rooftop garden of the West Hollywood Soho House. (There's Diddy! And maybe Cheryl Tiegs!) He dunks a taro chip into a bowl of guacamole and continues explaining how he landed a recent showrunning gig, one even he was pleasantly surprised to get. "I have no reason to think that's what happened — that David Fincher or Cary Fukunaga turned the job down." He takes an eager bite. "But I've been around a while. I get how this business works."
If all goes according to plan, the business of being Jason Bateman is about to radically change. After a long and well-regarded comedy career playing a lot of affable and unflappable straight men — his résumé is studded with professionally and emotionally stalled white-collar types — Bateman is executive-producing, starring in, and directing a handful of the episodes of Netflix's upcoming Ozark, a dark crime series in which his character, Marty Byrde (a, yes, professionally and emotionally stalled financial planner) launders money for a Mexican drug cartel and, among other anti-heroic behaviors, masturbates in public. A misstep involving the cartel's money forces him to uproot his wife and two kids and move from Chicago to the Lake of the Ozarks in search of anonymity and easy cash. "The tone, the darkness, the danger — the writing was all so well-crafted," says Bateman about what drew him to the project. "This wasn't Taken 4."
Though he's best known for playing beleaguered scion Michael Bluth in Fox's beloved, soon-to-be-resurrected-yet-again sitcom Arrested Development, Bateman has had a career that can be broken neatly into three phases, none of which obviously points to Ozark. First, there was his '80s teen idol-dom, thanks to Silver Spoons and The Hogan Family. That was followed by an aimless and boozy decade spent running on the failed-network-sitcom hamster wheel. Then, in 2003, came rejuvenation, owing to Arrested Development, the show responsible for Bateman's subsequent humble ascension to steady work as a supporting banana in big-screen comedies. "Arrested Development gave me a bit of capital," says Bateman of his place in the Hollywood ecosystem. "When a director or producer goes to lunch, they want to be able to brag about who they just hired. Arrested Development let them do that about me — even if I was just getting hired for a role that was fourth down on the call sheet."
Thankful as he is for his post-Bluth career fortunes, he's hoping to dial back the acting and dial up the producing and directing. What I really want to do is direct is a cliché, but it's one Bateman, an unabashed creature of Hollywood and a chatty, occasionally blue conversationalist, comes by honestly. "After 38 years of acting, you start to feel the need to be less dependent on the phone ringing. You want to be the one, whether it's producing or directing, who can perpetuate and drive your own work."
A waiter sets down our lunch — a club sandwich for me, a chopped salad, hold the cheese, hold the bacon, for Bateman, who goes on: "When it comes to my viability in the marketplace, no one is going to see a 'Jason Bateman vehicle.' Why would they? I can't do what Will Ferrell does. I'm not that guy. I'm the guy you cut to after Will Ferrell's character does something who gives a frozen blink." The issue, as he sees it, is, "You can't hang a movie on that guy."
Bateman was born in Rye, New York, but grew up in Hollywood; looking out from our perch above Sunset Boulevard, he points out his high school. At one point, he asks which hotel I'm staying in. I tell him, but he's never heard of it. "Not the Standard? Not the Chateau Marmont? What kind of hotel is it?" he asks. "Are the whores right there inside the lobby or do they at least wait outside?" He shakes his head ruefully. "Look, I understand, money's tight. Don't worry about lunch, I'll cover it." Then a Bluthian aside: "You'll be invoiced later."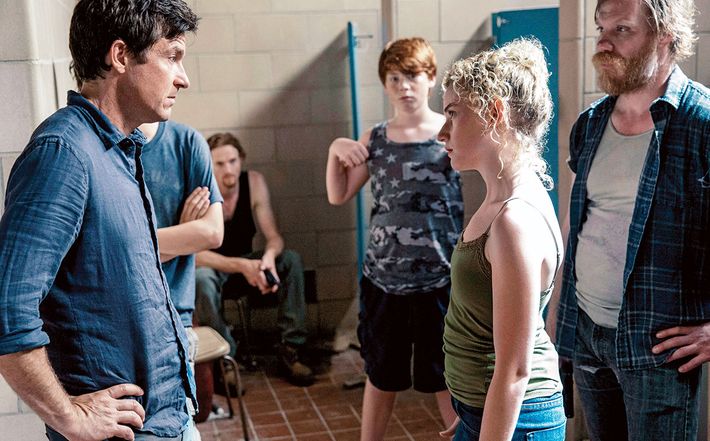 Being given the reins to Ozark is certainly a gamble — both for him and Netflix — but Bateman has been diligently positioning himself for the opportunity. He's directed two small-budget indie films — 2013's adult-contestant-in-the-kids'-spelling-bee comedy Bad Words and 2015's off-kilter drama The Family Fang; both respectably received, both little seen — and, in 2015, he co-starred in the thriller The Gift, in which he played his regular-white-dude persona for villainy instead of laughs.
All of which bolstered his case when it came time to convince MRC Studios, a co-financer of Ozark, to give him a shot. Bateman had read the pilot script by Bill Dubuque (The Accountant), then asked his agent to wangle a meeting for him with MRC's co-CEO Modi Wiczyk. "I was never going to be able to shape a case that would make me a no-brainer choice," Bateman says. "But I tried to articulate to Modi the virtue of the fact that I'd be in front of the camera, and behind the camera, and therefore able to have a firm hand on a show that required such a specificity of tone. Tone is tough, and having one person be in total control meant there was a good probability we'd be able to be at least creating something as satisfying as the scripts." Plus, he adds, "it wasn't going to cost him anything huge to hire me." The argument worked. Getting the green light "was one of the greatest days of my life."
Ozark is Bateman's baby, which means it's also his responsibility, now that it's about to emerge into the world. Just as no one would blame the fourth actor down the call sheet for the financial or critical failings of such recent Bateman films as Couples Retreat and Horrible Bosses 2, no one is going to point the finger at, say, Laura Linney, who plays Marty Byrde's wife, Wendy, if Ozark falters. This is Bateman's show, onscreen and off, and "I feel relatively calm about that," he says. "I'm comfortable being the one in charge, whatever the stakes may be. And I'm not the best critic in the world, but I'm proud of Ozark. I've seen what we've made, and I've got enough experience to know that what I'm smelling isn't shit."
Bateman is in the mitigating position of knowing that no matter how Ozark fares, he has the new, fifth season of Arrested Development on the Netflix docket for 2018. The entire dysfunctional Bluth family will be back for a suite of episodes that, as Bateman's tells it, should be more satisfying to the show's fans than the previous season, which aired in 2013. "Last time," he says, "because of scheduling problems, [creator] Mitch Hurwitz had to write the show in such a way that each episode focused on a different character — the cast couldn't all be together at the same time. The episodes felt like spinoffs, and the audience was left thinking, Well, this simply isn't what Arrested Development is. I'm not in control, but I have every reason to believe that the new episodes will be a lot closer to what the show was on Fox." Even if the new season had been conceived as stand-alone spinoffs, Bateman would've signed up anyway. "Working on that show is very self-serving," he says. "I love being with that group of people — and I love that I can be home from the set in 20 minutes." (Bateman is married to actress Amanda Anka — Paul's daughter — and the couple has two girls.)
Assuming all goes well with Ozark, which premieres July 21, it's conceivable Hollywood will need to find a new go-to comedic actor for low-key reaction shots. "I've gotten sort of cynical about acting," Bateman admits. "Probably because I was such a bullshit artist in my 20s, I'm a little over being good at being fake. Not to belittle what an actor does, but while you're sitting in your trailer, everyone else is out there making the movie. That's where I want to be. If I ever got to the place where I was able to choose between acting and directing, it'd be the acting that goes away."
The mere possibility of that shift compels Bateman into some quick career arithmetic. "Ozark proved that I could shoot the equivalent of a 600-page film script," he says. "If something like Ozark catches the Zeitgeist, then maybe you're given something a little louder to direct next time." He games out a best-case scenario. "If I do well with that project, maybe I could fill the time between a new season of Ozark — if we're lucky enough to get more — with directing a film with a $35 million budget, something like what Judd Apatow or David O. Russell does. I aspire to be a filmmaker like them." He leans forward. "I need more practice to be able to execute like those guys, and the only way to get that practice is by doing it."
The guacamole's long gone, and I get up to leave. "I'm going to stay here," he says briskly, shaking my hand good-bye. "I'm gonna make a call."
*This article appears in the July 10, 2017, issue of New York Magazine.