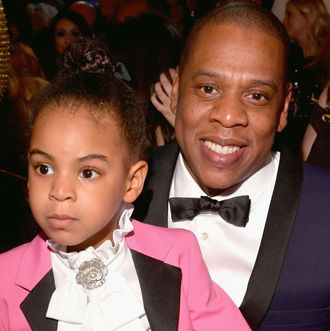 A dream lineup.
Photo: Lester Cohen/Getty Images for NARAS
Jay-Z has announced a three-month North American tour in support of 4:44 starting in October and, child labor laws be damned, Blue Ivy had better be the opener. Jay-Z hasn't done a solo tour since 2013, but his previous On the Run Tour was a family act with wife Beyoncé — a period of marital repair for the couple, as Hov has since revealed — so it stands to reason that another Carter could get in on the family business and open for her dad.
Sure, she's only 5 years old, but imagine if Michael Jackson had waited until puberty to start his career. Plus, Blue has proven at many an awards show that she's already inherited mommy's moves. She's also appeared in more songs (she was doing features at 2 days old!) and music videos than most other kindergarteners outside Calabasas. Just last week, we learned a game-changing new development in the Carter genetic pool: Blue's got bars. And the whole of Brooklyn's Barclays Center (which Jay will hit on November 26) deserves to hear her commanding boom shakalaka live. For further cultural finesse she might even throw in some ballet. As Blue rapped, she's never seen a proverbial ceiling in her whole young life, so who's gonna put one in her way now? Move over, baby Asahd: This is Blue's world; we're just living in it.