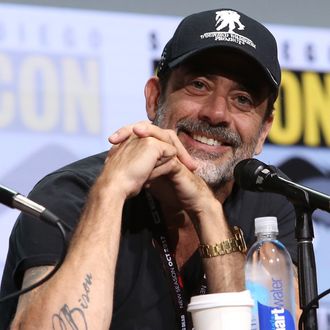 The face of a killer.
Photo: Jesse Grant/Getty Images for AMC
AMC basically has a standing reservation in Comic-Con International's major event space, Hall H. The 6,500-person room looks like an airplane hanger on the inside, and the network that Man Men built fills it up all weekend long with shows like Preacher, Fear the Walking Dead, and its crown jewel, The Walking Dead. TWD is such a Comic-Con staple now that it's been branded onto the official entry badges and lanyards for multiple years in a row and, as has become custom, the show filled the hall to capacity once again in 2017.
This year's event, however, was a rather somber affair. Following the recent death of stuntman John Bernecker while filming an episode of the show, team Walking Dead considered pulling out of the convention entirely. Instead, they showed up in force without the typical pageantry of a Hall H fandemonium experience. Instead of walking out and being introduced one by one to be greeted by the adulation of fans, the cast and writers on hand simply took the stage in darkness and were all seated by the time the stage lights went up. They also opted out of having a host moderate the conversation and chose instead to field an hour of questions straight from fans.
The quiet mood was broken up, however, by the irrepressible Jeffrey Dean Morgan. As Negan, Morgan plays the show's most reviled villain to date, dishing out violent punishment with such deftness and swagger that you know he's infinitely better off in the zombie apocalypse than he ever was in a normally functioning society. And Morgan plays him to the absolute hilt. So when he got asked by a fan what his favorite and least favorite qualities were about the character, Morgan gave an answer that would surely make Negan proud.
"What do I like most about Negan? I find him very amusing. I think he's got a great sense of humor. In these dark days, a sense of humor will help you get through." It's certainly an acquired taste, Negan's humor. It really depends on whether or not you're in a laughing mood when he says he hopes you have your shitting pants on, because you're about to shit your pants as zombies threaten to break through the walls and he's holding a barbed-wire-wrapped bat over you. (To catch that moment, see the newly released trailer for Walking Dead's eighth season.)
As for what Morgan likes least about Negan, is it the joy he takes in humiliating others? Is it the sadism? Is it the fact that he beat a fan favorite to death? Is it that he threatens children? No, it's just a sartorial detail. "What do I like least about him?" Morgan asked rhetorically, "That he wears a leather jacket on a 120-degree day."
Later on in the panel, Morgan fielded another inquiry about Negan, this time asking whether or not there was any dialogue from the comics that they really wanted to include in the show but couldn't because of broadcasting regulations. Morgan replied "every line that's said" before elaborating on what Walking Dead can actually get away with: "I think we are allowed seven shits, like one God damn" and — much like Negan and Morgan himself — "zero fucks."