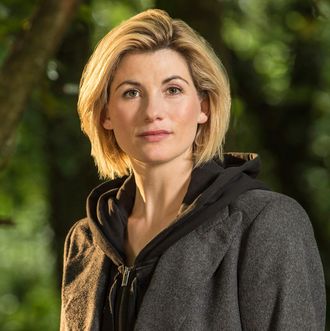 Jodie Whittaker.
Photo: Colin Hutton/BBC
When it was announced that the new Doctor Who would be played by Broadchurch's Jodie Whittaker — making the Doctor a woman for the first time ever — many took to the internet to vent their misogynistic frustrations. Fortunately, BBC had a perfect clap back, but unfortunately, BBC has also made news recently for the discovery that the broadcaster has a pretty severe gender pay gap. One step forward, two steps back.
Fortunately, when asked by the Evening Standard if Whittaker will be paid the same as the current Doctor, Peter Capaldi, BBC director general Tony Hall answered in the affirmative. That puts Whittaker's salary somewhere in the range of $260,000 and $325,000, according to the Hollywood Reporter. The jury is still out on whether or not some U.S. shows will follow suit and pay actors what they deserve, regardless of race or gender.