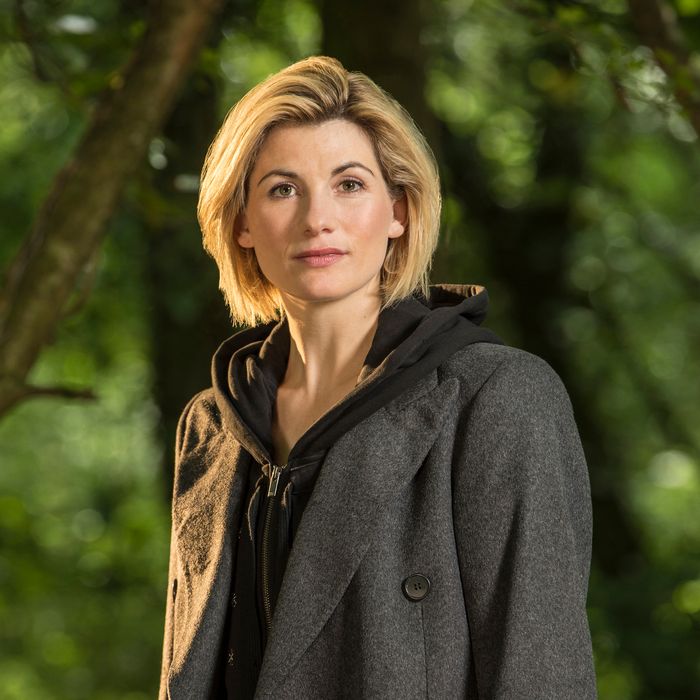 Jodie Whittaker as Doctor Who.
Photo: Colin Hutton/BBC/Colin Hutton
After 36 seasons, Doctor Who finally did it.
On Sunday, the iconic BBC franchise announced that the next Doctor, the 13th in the show's history, is going to be portrayed by a woman: seasoned film and television actress Jodie Whittaker. While some Who purists were quick to bemoan the change in gender, the majority of the fan base applauded this revitalization — which can perhaps best be described as exactly what the show needed in 2017 after dozens of years of white dudes running all over the place with sonic screwdrivers. "I want to tell the fans not to be scared by my gender. Because this is a really exciting time, and Doctor Who represents everything that's exciting about change," Whittaker said following the announcement. "The fans have lived through so many changes, and this is only a new, different one, not a fearful one." As Whittaker isn't exactly a household name in the States, we've put together a handy guide on everything you need to know about the new Doctor. Read on or you will be EX-TER-MIN-A-TED!
So, what are the basics?
Whittaker is 35 years old and hails from West Yorkshire, England. She describes herself as someone who generally eschews the spotlight outside of work. "I couldn't imagine sitting in a restaurant and someone on the next table being interested in the crap I was spouting," she said in an interview a few years ago. "If you're instantly recognizable you must be of interest to people all the time." That's about to change, girl!
Her face looks pretty familiar. Have I seen her anywhere on the small screen before?
Though Whittaker is admittedly more recognizable across the pond, there are a handful of notable roles that you may have seen her in. Most memorably, she portrayed grieving mother Beth Latimer on all three seasons of the critically acclaimed crime drama Broadchurch and appeared in the popular first-season Black Mirror episode "The Entire History of You" as a cheating wife in an alternate universe. If you like classic British period dramas, she had a recurring role in Return to Cranford, and she even co-starred in a drama for ABC in 2014 called The Assets — it didn't last long due to low ratings, but she got to hone her chops by playing real-life CIA agent Sandra Grimes.
Okay, what about film?
She co-starred with a pre–Star Wars John Boyega in the 2011 sci-fi romp Attack the Block, about a teenage street gang in South London and a 20-something trainee nurse who fight back against unfriendly alien visitors. (We loved it.) You might've also seen her in the comedy St. Trinian's and its sequel, or her film debut, Venus, where she starred alongside the late Peter O'Toole. Additionally, she co-starred in a 2009 Academy Award–nominated short film, Wish 143, which follows a teenage boy with terminal cancer who wants to lose his virginity before his imminent death.
Peter Capaldi previously appeared in an episode of Doctor Who before getting the leading role. Does she have any fun connections like that?
While she never snuck into an old Who episode, Whittaker already had major insider credentials — in addition to starring alongside former Doctor David Tennant in Broadchurch, the new Doctor Who showrunner, Chris Chibnall, was the previous showrunner and co-writer for that series. "I always knew I wanted the 13th Doctor to be a woman and we're thrilled to have secured our number-one choice," Chibnall explained after the casting was unveiled.
When will we actually see her regenerate?
At the end of the upcoming 2017 Christmas special. Let the countdown begin!