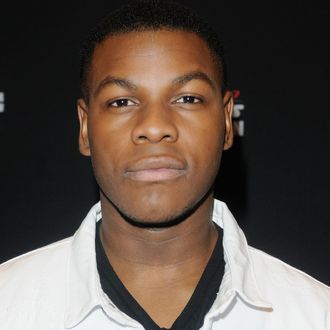 John Boyega.
Photo: Gerardo Mora/Getty Images for Disney
John Boyega is new to this whole being super famous and very in demand thing, so he sought out advice from one of Hollywood's sagest mentors: Robert Downey Jr. "It was time for me to sit down with someone who's been through the extremes of Hollywood," Boyega explained to GQ, "and to be given some tips as to how to stay stable." Over waffles — which RDJ didn't make himself, but did "orchestrate the making of," Boyega said — the Star Wars star asked Iron Man about navigating Hollywood and his career, and also how to date successfully. (Remember when he got dumped for being the lead actor in a Star Wars movie?) And just then, out of the blue, Orlando Bloom walked in!
Hanging out with RDJ and Bloom — "a man seemingly in a blissful marriage (Downey)," GQ summarized, "and one of the dudes who inspired Katy Perry's latest album (Bloom)" — over waffles, the three of them decided the key to Boyega's heart:
Boyega is borderline wistful as he imagines this ideal woman, equally comfortable in Peckham and Hollywood, going through tough times and dancing on red carpets. "It's nice to survive with your companion by your side. I'm sure it's a good thing," he says. "But I've never experienced it. And people advise you as a celebrity, 'Make sure you get someone who doesn't care about your career.' Mmmm…I disagree," Boyega told Downey and Bloom. They concurred: "She has to care about it to understand it."
Ladies, take note.