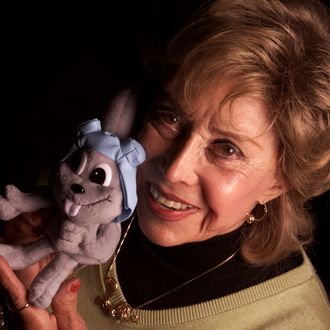 Photo: Brian Vander Brug/LA Times via Getty Images
June Foray, known as the "First Lady of voice actors," died on Wednesday. She was 99. Though perhaps best known for playing Rocky the Flying Squirrel and Natasha Fatale in The Rocky and Bullwinkle Show, her impressive career spanned eight decades in radio, television, and film. Some of her credits include Aunt May in The Amazing Spider-Man; Grandma Fu in Mulan; Granny and Witch Hazel in the Looney Tunes cartoons; and Jokey Smurf and Mrs. Sourberry in The Smurfs. Foray played Cindy Lou Who in the 1968 Grammy Award–winning The Grinch Who Stole Christmas. She also won a daytime Emmy for her part as Mrs. Cauldron in The Garfield Show and received four Annie Awards.
Foray was born June Lucille Forer in Springfield, Massachusetts, in 1917. The first time she did voice work was for a local radio drama when she was 12 years old. She published her autobiography, Did You Grow Up With Me, Too? in 2009. Foray died just two months shy of her 100th birthday.