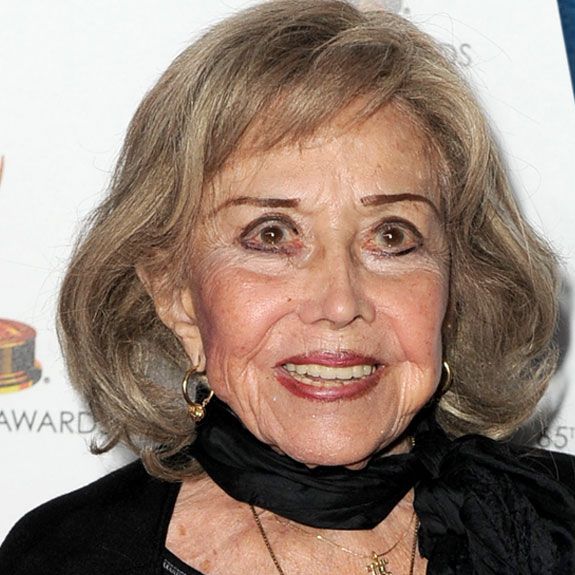 June Foray voiced Rocky the Flying Squirrel and countless other animated characters.
Photo: Getty Images/NBC
Voice actor June Foray, who died Wednesday at 99, was a giant. She deserves a place in the pantheon of great voice actors, next to such past legends as Mel Blanc and Daws Butler, and such present-tense stars as Tom Kenny (SpongeBob Squarepants), Phil LaMarr (Samurai Jack), and the ensemble casts of Bob's Burgers and The Simpsons (whose ranks include some of the folks mentioned here).
Two striking biographical facts set Foray apart from everyone else, however. One is that she rose to the top of a profession, cartoon voice-over acting, that was male-dominated when she first started out in the 1940s and is only slightly less of a sausage fest today. Aside from a few notable outliers — like the great Nancy Cartwright, a.k.a. the voice of Bart Simpson, who trained with Daws Butler, the voice of Huckleberry Hound, Yogi Bear, and Snagglepuss — many of the women who have become superstars in this field since the '70s worked simultaneously in live-action and animation instead of concentrating mainly on the latter.
The other is that Foray's career spanned the length of every famous and semi-famous person mentioned in this paragraph. Whether you're 7 or 70, and whether you first encountered her voice in Looney Tunes shorts or on The Simpsons, on The Adventures of Rocky and Bullwinkle or Baby Looney Tunes, in Disney's Cinderella or Disney's Mulan, in Disney and Warner Bros. shorts and on recent Fox and Cartoon Network series, Foray has been a part of your imaginative development. If you were any sort of animation buff, she was one of the voices that you heard in your head.
For kicks, go to Foray's Wikipedia page and scroll through her radio, TV, and film credits. See how long it takes. Watch the dates roll over from the 20th century into the 21st. The sheer number of credits is astounding. The variety and quality is equally formidable.
Animation has changed a lot since she was starting out. Styles have come and gone. Studios have come and gone. Her mentors and most of her early colleagues died and successive generations replaced them, and were joined by still younger artists. Foray remained a constant.
Born in Springfield, Massachusetts, Foray started out in radio in 1929 when she was 12. She became a full-time professional in the 1930s, acting on Lux Radio Theater and The Jimmy Durante Show. Foray played Tweety Bird's companion Granny (taking over for actress Bea Benaderet) and Bugs and Daffy's goofy nemesis Witch Hazel ("Eh-HEH HEH HEH HEHHHH!") in Warner Bros. shorts, acting opposite Mel Blanc, and working with Termite Terrace auteurs like Friz Freleng and Chuck Jones. Foray's original Witch Hazel was a character in the Donald Duck short "Trick or Treat," but Jones was so impressed by Foray that he hired her away to work in Looney Tunes. Among other characters, he had her portray various witches, one of whom was also called Witch Hazel, whose first appearance was in 1956's "Broom-Stick Bunny."
Foray did the voices of Midnight the Cat and Old Grandie the Piano on The Buster Brown Program from 1944–1952. She was Rocky the Flying Squirrel on the various incarnations of Rocky and Bullwinkle ("Now here's something we hope you'll really like!") as well as Natasha the spy and Nelle in the Dudley Do-Right shorts. She was Cindy Lou Who in Jones's original TV version of How the Grinch Stole Christmas, catching the title character trying to steal her family's Yuletide bounty and asking, "Santie Claus, why? Why are you taking our Christmas tree? Why??"
Foray worked almost continuously from the instant she first spoke into a microphone. She had a knack for never getting too tightly locked into any one mode of storytelling; that gave her an uncanny ability to move wherever the work happened to be at any moment. The market for theatrical shorts started to dry up in the early 1960s, but by that point Foray was well ensconced in network-TV voice acting, on both Saturday morning and in prime time. (Matt Groening honored her in a classic episode of The Simpsons, "The Itchie and Scratchy and Poochie Show," by introducing her in a recording studio as having secretly been performing the roles of homicidal cat-and-mouse duo Itchy and Scratchy the whole time.) She reprised many of her signature roles from Looney Tunes, Rocky and Bullwinkle, and other series throughout the '90s and beyond. DreamWorks recently brought her in to reprise Rocky for a Rocky and Bullwinkle short that played in front of Mr. Peabody & Sherman, the feature-length version of another mainstay from the original TV show, Mr. Peabody's Improbable History.
Beyond her work onscreen, Foray was one original members of ASIFA-Hollywood, a professional animators' group; the founder of the annual Annie Awards for animated storytelling; and one of the most prominent agitators for the creation of an Oscar for best animated feature. The Annies later named the Foray Award after the actress, honoring "individuals who have made significant or benevolent contributions to the art and industry of animation," and made sure she was the first person to receive it.
Chuck Jones, who proposed Foray's star on the Hollywood Walk of Fame, summed up her talent after somebody described her as the female Mel Blanc. "June Foray is not the female Mel Blanc," he replied.
"Mel Blanc is the male June Foray."