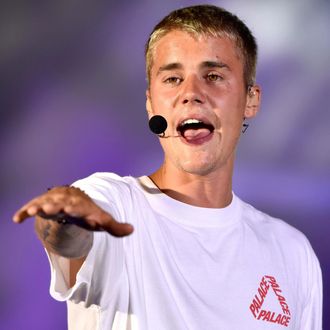 Bieber.
Photo: Pratik Chorge/Hindustan Times via Getty Images
Justin Bieber's Purpose tour is no more. Bieber announced Monday that he will cancel the 15 remaining Purpose World Tour shows due to "unforeseen circumstances." "It wasn't a decision made overnight," a source told Variety. "He's had some time off and was able to consider his commitments." Here's the official statement:
Due to unforeseen circumstances, Justin Bieber will cancel the remainder of the Purpose World Tour concerts. Justin loves his fans and hates to disappoint them. He thanks his fans for the incredible experience of the Purpose World Tour over last 18 months. He is grateful and honored to have shared that experience with his cast and crew for over 150 successful shows across 6 continents during this run. However, after careful consideration he has decided he will not be performing any further dates. Tickets will be refunded at point of purchase.
While Bieber's reps weren't available for further comment, sources told TMZ that Bieber canceled the rest of the dates because he's "just over it" after doing the same show since March 2016.
Update, July 25: TMZ caught up with Biebs, who confirmed that he canceled the tour to get some R&R after two years on the road. And to also "ride some bikes." He also hopes it's not too late to say he's "very sorry to anyone who feels disappointed or betrayed" by the cancellation. Bieber's manager, Scooter Braun, echoed that sentiment: "To Justin who gave it his all night after night thank you. And to those that won't be able to see it … on behalf of myself, Justin, and the team, we are sorry. That was never our intent. But a man's soul and well being I truly care about came first and We [sic] must all respect and honor that."
Perhaps we should take Braun's comments about a man's soul and well-being as a sign that Biebs is going back to focusing on God: TMZ now reports that Biebs canceled his tour because he's "rededicated his life to Christ," according to people in the know at Hillsong Church, which Bieber attends wherever he goes. Bieber's close relationship with Hillsong pastor Carl Lentz and the City Church pastor Judah Smith has been well-documented — Biebs credited them both for helping him turn to faith after a series of public scandals — but TMZ says Lentz did not "advocate" for Bieber canceling the tour.