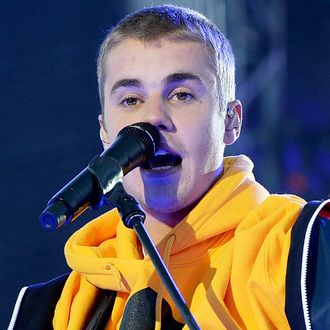 哎呀!
Photo: Kevin Mazur/Getty Images for One Love Manchester
China doesn't like Justin Bieber, though to be fair, there are a lot of people China doesn't like. Today, the Beijing Municipal Bureau of Culture revealed that Bieber has been banned from performing in China thanks to his "bad behavior." "Justin Bieber is a gifted singer, but he is also a controversial young foreign idol," the bureau wrote in response to a fan who posted a question on its website asking whether Bieber was allowed to perform in China, as his upcoming Asia tour does not include any performances on the mainland. "His inappropriate manner has caused public discontent," the bureau wrote, declining to name specific instances, though there are plenty of available options, including the time Bieber caused a kerfuffle in the country in 2013 when he was carried up the Great Wall (or maybe Chinese authorities passionately believe Bieber should learn the Spanish lyrics to "Despacito").
"In order to regulate the market order of show business in China and purify the market environment, it was decided that performers of inappropriate behavior will not be welcomed." Thanks to the ban, Bieber joins the ranks of other eminent artists who have been banned from performing in China, such as Björk, Maroon 5, and Oasis, though those three were blacklisted for voicing support for Tibet and the Dalai Lama. The Canadian pop star has not, as yet, spoken out on the ban, or Chinese politics in general. Is it too late for him to say 对不起 now?