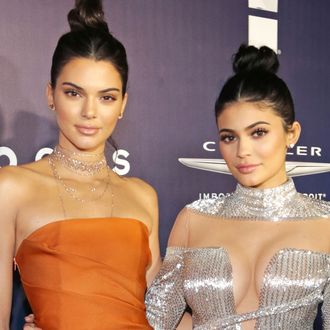 Photo: Loreen Sarkis/Getty Images
You think the Notorious B.I.G's mother was going to have all of the lawsuit fun with Kendall and Kylie Jenner's terrible "vintage" band T-shirts? Of course not! Per Billboard, photographer Michael Miller is suing the sisters for copyright infringement over the use of photos he took of the late rapper Tupac Shakur. They included the photos in two T-shirt designs for their Kendall + Kylie brand, along with the likes of other famous musicians such as the Doors and Ozzy Osbourne. (For the Tupac designs specifically, his images were juxtaposed next to Kylie exiting a pool and Kendall wearing large hoop earrings.) The complaint states that Miller "at no time sought to associate his work with Kendall or Kylie or any of their companies," yet the duo "have misappropriated and wrongfully exploited at least two original photographs of late hip-hop artist Tupac Shakur, slapping the iconic photographs on garments and overlaying them with dubious imagery and text." Miller also claims he was never approached by the sisters to "exploit" his work, and if they did, he would've said no.
About a day after the $125 T-shirts debuted, the sisters apologized for the designs — which were called out by many people as profiting off of black culture — and have since removed all traces of them from their website. "These designs were not well thought out and we deeply apologize to anyone that has been upset and/or offended, especially to the families of the artists," a part of their joint apology read.