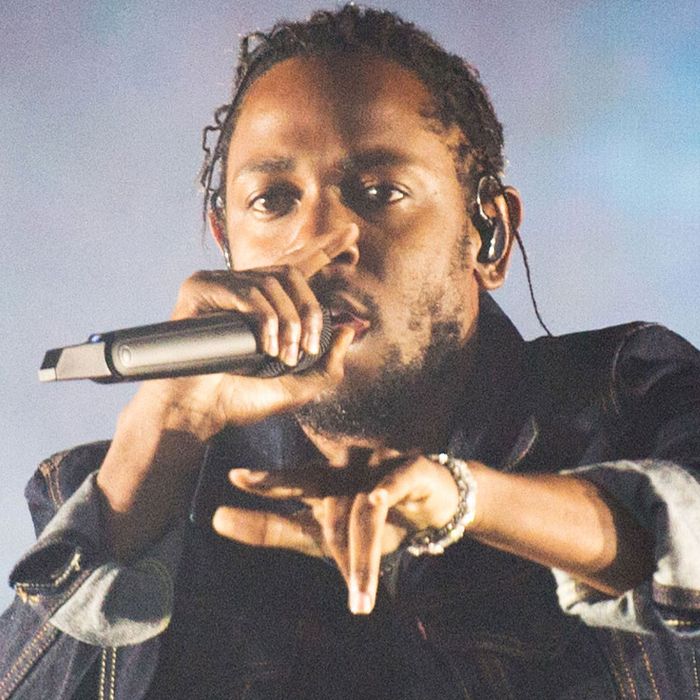 Kendrick, at an earlier performance.
Photo: Ollie Millington/Redferns
Kendrick Lamar admittedly knows very little about kung fu, at least not the Chinese discipline most associated with martial arts. His relationship with kung fu likely stems from Wu-Tang Clan and the old '70s and '80s kung fu films that inspired their name and obsession with Shaolin. But Kendrick Lamar, who released his fourth album DAMN. in April, is an ardent rap fundamentalist who's proven himself a student of any craft he touches. On his DAMN. tour, which made its first of two stops at Brooklyn's Barclays Center on Thursday night, he further explored the meaning behind his moniker: Kung Fu Kenny. With his video for "D.N.A.," we learned that the name's origins came from Don Cheadle's character in Rush Hour 2. Kendrick's tour also presents a film: The Damn Legend of Kung Fu Kenny (which Kendrick debuted at Coachella), which tells the story of Kendrick's growth from a novice trained by a shifu to a scholar capable of channeling the energy of a master — the "glow," as seen in the Last Dragon.
Elements of the film bleed into Kendrick's performance, which sees him acting out choreography with a dancer wielding a sword during opener "D.N.A." At least three of his other dancers were apparently trained martial artists, each getting their own intermission to showcase their stances. At Kendrick's most impressive, he appeared to be hovering laterally over one of these artists, who held both himself and the rapper up by just one arm, while Kendrick bopped his head and perfectly rapped the lyrics to "PRIDE." But because Kendrick has reached a point in his career where few can successfully school him (or dare to even try), the rest of the DAMN. tour has the feel of a performer with little left to prove. Here, he takes a minimalist approach.
At the 2015 small club run in support of his last album, To Pimp a
Butterfly, Kendrick played maestro to his tremendous backing band; on the DAMN. tour, his band is nowhere to be seen. The only people Kendrick allows on his stage — which at one point becomes a rising platform draped in fairy lights in the middle of Barclays — are himself and the aforementioned dancers and martial artists. For his headlining sets at last year's Panorama Festival and Global Citizen Festival in New York City, Kendrick projected footage of George W. Bush and talking heads like Bill O'Reilly, mocking their buffoonery, then juxtaposed these clips with classic images of Tupac and Pam Grier. They aligned with the political exhaustion and homage to black Americana that simmered throughout that album.
But given DAMN.'s more introspective nature, the only clips — aside from the short film — shown were footage of an atomic bomb detonating and further references to Asian culture, including a black-and-white ping-pong match projected on a screen above him while the brutal fight scene from Kendrick's "ELEMENT." video played on another screen behind him.
Kendrick's set list has also tightened — not a single song of his from before 2012 made the cut. He didn't revisit fan favorites from first album, Section.80, but instead rolled out good kid, m.A.A.d city hits like "Backseat Freestyle" (which has aged very well), and later rewarded day-one fans with "LOYALTY." By his next album cycle, it's possible a song like "Alright" might feel old-gen to Kendrick.
Contrary to its media glorification, the black belt is not the end of one's journey in martial arts. It simply denotes the completion of a student's training — that one has worked, fought, and studied from the birth of their knowledge in the art to a level of wisdom that can then be imparted on future students. There's no ceiling to this learning, and, unlike his Coachella set, Kendrick never advanced his wardrobe to all-black to suggest he's done either. Instead, Kendrick spent half the DAMN. tour (at least at Barclays) in all yellow, still searching for the sun, then changed to all red after defeating an adversary in an arcade game during the short film that had him symbolically playing the turtle that slays the snake (played by a female opponent) and unlocking the "glow" his shifu sent him after.
Kendrick ultimately found this "glow" in the deep crevice between a woman's legs — "the glow shines brightest in the darkness," we're told — and offers a comical nod and a wink to its exact location, with "Every Nigger Is a Star" (the song he sampled on his last album) blaring. He may have finished his quest, but, in the film, he's back to all white. Fans and many critics alike might think Kung Fu Kenny has mastered rap, but Kendrick doesn't seem as content with stopping his education now.