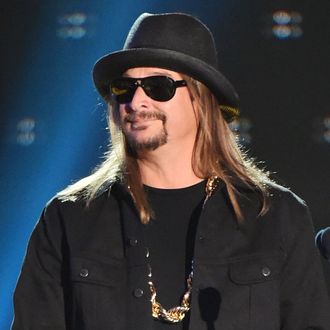 Oh boy.
Photo: J. Merritt/FilmMagic
Kid Rock's potential Michigan Senate run against Debbie Stabenow is seeming less and less like a publicity stunt, even if it still reeks of one. In a new update on the situation, Robert James Ritchie has announced he's still "exploring" his candidacy and that, should he run, "it's game on mthrfkers." While he mulls the decision, Rock has launched a nonprofit to raise money for resources that could increase voter turnout and to also get people registered at his concerts, where they can buy whatever else he's selling. If that sounds slightly opportunistic, Kid Rock would like to assure naysayers he's well within his right to use a political campaign to self-promote, as this country's current reality-star-in-chief set the bar:
Since the announcement, the media has speculated this was a ploy to sell shirts or promote something. I can tell you, I have no problem selling Kid Rock shirts and yes, I absolutely will use this media circus to sell/promote whatever I damn well please (many other politicians are doing the same thing, they just feed you a bunch of bullshit about it). But either way, money raised at this time through the sale of merchandise associated with this very possible campaign will go towards our 'register to vote' efforts.
May the world brace itself for all the Kid Rock 2018 branded "American Badass" grills, firearms, and beer inevitably already being manufactured somewhere in the good ol' U.S. of A. Rock says he will hold a press conference in the next six weeks to give further details on his run and nonprofit. But until then, we'll just have to take his word that, uh, "the democrats are 'shattin' in their pantaloons' right now."