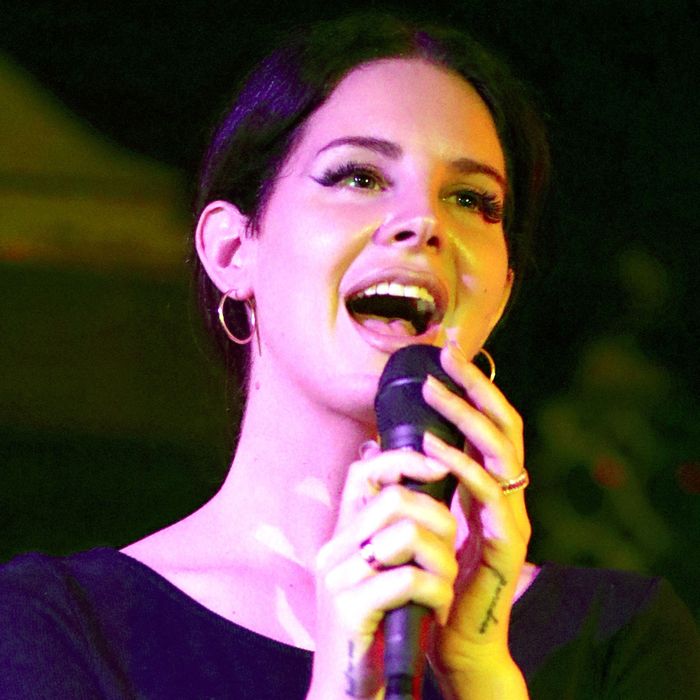 Del Rey.
Photo: Christopher Polk/Getty Images for Spotify
For as long as she's been known, it's been a given that Lana Del Rey has "features" in abundance, but not on her albums. If her persona has been the outcome of a carefully, even poetically arranged series of gestures and looks, maintaining that particular image has mandated that she only appear far from the distorting presence of other artists. She could at times lend her voice to others (to the Weeknd most recently and prominently), but it didn't work the other way around: her neo-retro aesthetic didn't harmonize with the sound and tone of the vast majority of contemporary artists'. Kanye and Nicki are decent fits for a Katy Perry album, and Ed Sheeran made for a plausible guest on Taylor Swift's Red LP, but who was fit to pay a call to Lana? No one, apparently. As an artist busy shaping a distinctly different style of her own, over the course of three albums, she was too self-possessed to play with guests.
But Lana has also always possessed a precious capability to surprise her audience. Since her fourth album's Weeknd-featuring title track dropped in April it's been understood that Lust for Life, released in full last night, would be her first with any featured artists; since the A$AP Rocky features "Summer Bummer" and "Groupie Love" came out last week it's been clear that Lust would be her first album with multiple guests. The track listing, similarly released last week, also numbered Sean Ono Lennon and Stevie Nicks as collaborators.
Naturally, fans were quick to speculate on the known but as-yet unheard guests, particularly in the latter case. Given the '60s vibe of the album art and a lead track citing Woodstock in its title, enlisting Ono Lennon made sense — and in fact "Tomorrow Never Came," the superb song on which he features, exudes a love-and-peace vibe. But with Stevie Nicks and Lana Del Rey, the conjunction was just as logical, but also harder to imagine ahead of time. There had never before been a Lana track with two women, and figuring out exactly how Nicks's own mature and self-possessed voice would meet Lana's halfway seemed a hopeless task. One could only wait and learn in due time how "Beautiful People Beautiful Problems (feat. Stevie Nicks)" would ring out.
The track is very good. Lana's opening verse, a brightly colored quatrain from a bird's-eye view, exemplifies the album's partial shift, relative to its predecessors, from being seen to being an observer. After casting larger than life shadows for three albums, Lana has decided, on roughly half of Lust for Life (the other half being a fresh dose of the nectar and ambrosia her fans know well), to view the world and its people at large, encroached on by darkness yet still worthy of faith. "We get so tired and we complain / 'bout how it's hard to live / It's more than a video game," Lana adds, calling back to her earliest hit while revising its message. It's not enough to get lost in images anymore, and when she launches a chorus about how we're just beautiful people with beautiful problems, the tone is inclusive and grounded, less glamorous and more personal. That "we" isn't royal; it's everyone who's tired but trying to go on.
If you're wondering where the old Lana went, Nicks, on her own verse, seems to be possessed by her spirit. It's a jolt to hear Nicks's own oiled-leather voice delivering four Lana-esque lines, about love for a hard man, capped off by a perfect summation of the old Lana aesthetic: "My heart is soft, my past is rough." When the two finally sing in unison, the effect is hair-raising:
But when I love him, get a feeling
Something close to like a sugar rush
It runs through me, but is it wasted love?
Let's not waste it, love.
It's unclear exactly how the first verse fits with the second, which is to say how Lana's new vision fits with the old one she's mastered. Our first impression (and first impressions of Lana are, to be fair, extremely deceiving) is of the album as two smaller albums merged together under one name. All of the songs are excellent, but we're not sure yet if they're quite as excellent together. What's already certain, though, is that Lana Del Rey and Stevie Nicks sound thrilling on the same track: For now, that should be enough.