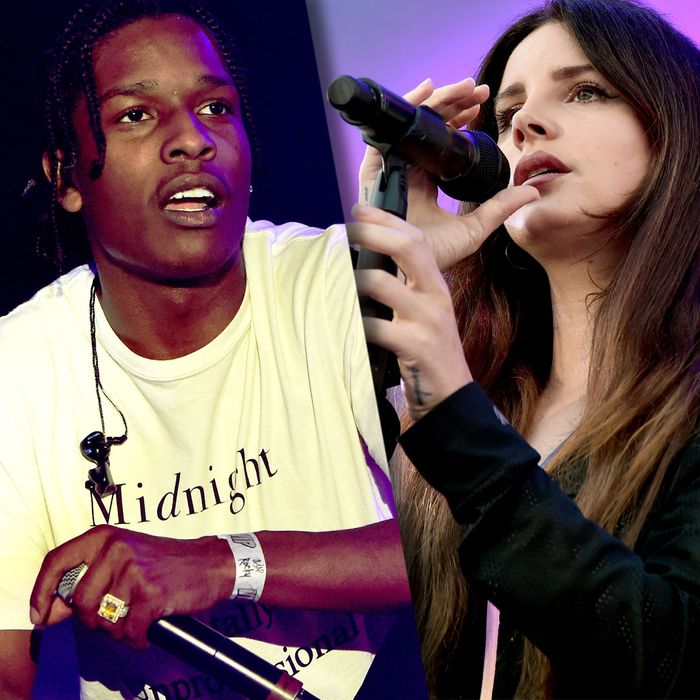 A$AP Rocky and Lana Del Rey.
Photo: Getty Images
For all the talk of her repurposing a '40s and '50s aesthetic, Lana Del Rey has always kept abreast of the music of the moment, and what the music of the moment happens to be, more and more and more, is rap. "You were sort of punk rock, I grew up on hip-hop," she sings to a lover on "Blue Jeans" from Born to Die, a debut album whose verbal density and content is clearly informed by a close study of rap lyrics — other phrases on "Blue Jeans" include "fresh to death," "chasing paper," caught up in the game," and "ride or die." Born to Die's excellence is based, in no small part, on Lana's willingness to meet hip-hop on its own terms while maintaining her own sense of image and proportion.
That being said, Born to Die's actual musical arrangements are not very hip-hop and are pretty much as retro as they've been made out to be: outsize orchestrations, sweeping melodies, an endless sense of something hanging in the air. Subsequent albums would move away from hip-hop lyricism in the process of shaping an especially languid version of cool: The verses were shorter and less verbose and repetitions took precedence over clever rhymes. After the grand stoned cathedral of Honeymoon, one could be forgiven for believing that her romance with hip-hop was nothing more than a summer fling.
But Lana moves in her own time, and the slow rollout for her fourth album, Lust for Life, is proving that her passion for black music is more committed than ever. It started with the Weeknd: After having gone without features on her first three albums, Del Rey combined forces with the Toronto singer, guesting on a gorgeous interlude on his Starboy and then sharing a duet with him on Lust for Life's title track. Now it's A$AP Rocky's turn to pair off: The Harlem rapper turned fashion icon last seen cavorting with Del Rey in the music video for Born to Die's "National Anthem" returns as the featured artist on both of the tracks from Lust released today in anticipation of the album's launch on July 21.
Though it matches the high standard set by Del Rey's prior body of work, "Groupie Love" is clearly the lesser of the two Rocky features. The arrangements, produced by the same team Del Rey has worked with for years, are as thick and airy, and tasteful and obvious, as ever. Del Rey has built her image around delivering an unconditional "yes," and it's kind of surprising that she didn't get around to framing her affirmations as groupie-esque before now: "It's so sweet, pouring you a drink, and pretending that nothing means anything," she sings, once more extending a line of infinite credit. Like PT Cruisers and any crush after the first, it's not new, but is. "It's like magic, babe, isn't life wonderful?" Lana's genius is one that can afford to admit how love is every bit as clichéd and banal as it is thrilling and inventive.
Like "Groupie Love" — like every Lana Del Rey song — "Summer Bummer" is about love. But the music on "Bummer" carries with it an unprecedented charge. Boi-1da and T-Minus, A-list producers renowned for their work with Drake and other rap artists, have laced Lana with a heat-dazed, shade-cooled beat, a banger situated halfway between beach and trap. It's a track that any rapper would be proud to surf over, and Rocky knows it, delivering a calmly boastful, well-tailored verse ("Her sophistication make you want to quit the bitch you dating") punctuated by a choice, subdued set of A$AP affiliate Playboy Carti's ad-libs. Meanwhile Lana's voice, passionate and aching yet effortless and chill, sings to a lover free to change yet fated to accept her love: "Can't get you out of my veins, you can't escape my affection." Racial subtext slips in through lines about "white lines and black beaches," though the real poetic highlight is the "blood-red sangrias." "Hip-hop in the summer," the hook starts off, and everything else in the song confirms it. After years in the dark, Lana's love with hip-hop is out in the open again, and like any love, it feels as if no time has passed at all.