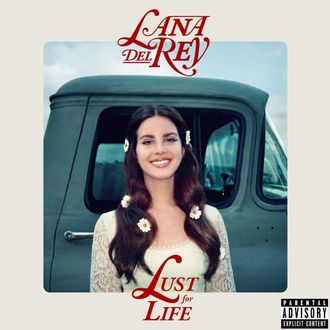 Lana Del Rey's album Lust for Life is almost here, and so America's spirit-wisp envoy of the 1960s with a millennial twist has released the full track list for her coming LP. And let us tell you: It's very on-brand for Lana. It's Lana like "Blue Jeans." It's Lana like a hand-me-down Stevie Nicks scarf. It's Lana like saying the words "lust for life" with neither lust nor life in your voice. It's Lana like a gloomy June morning in Los Angeles, but also Lana like a golden Southern California sunset. So we have rearranged the Lust tracks from least to most Lana, with the understanding that all of them being tied for first place would also make a lot of sense.
16. "In My Feelings"
This one feels almost too contemporary to be a Lana song. It's more a new edition Selena Gomez title. "Bad Liar," "Fetish," "In My Feelings." See? This is definitely the least Lana song title, even if Lana is all about being in her feelings.
15. "Change"
Sure.
14. "Tomorrow Never Came" ft. Sean Ono Lennon
If you're saying that in the past tense, Lana, then it sounds like tomorrow did come. But you're crazy, girl, so we'll accept your reframing of time into an abstract concept instead of a linear progression for the sake of making a Beatles reference on a track featuring John Lennon's son.
13. "Get Free"
You can't cage this gypsy witch bird.
12. "Groupie Love" ft. A$AP Rocky
Success and money are important themes in Lana's music, so icon worship and "groupie love" are very on-brand, especially on an album called Lust for Life.
11. "Summer Bummer" ft. A$AP Rocky & Playboi Carti
Every Lana song is kind of a summer bummer, isn't it?
10. "Love"
Lana would have a song just called "Love."
9. "White Mustang"
America is an important theme in Lana's music (more on that later). Doesn't the image of a white mustang feel so eminently American? It could be the horse, striding through the Western plains, or it could be the car, some good old American muscle. Lana would definitely sing about either.
8. "God Bless America — And All the Beautiful Women in It"
Lana loves America and Americana and beauty so much. This is so Lana.
7. "When the World Was at War We Kept Dancing"
If the world caught fire around her, you can bet that Lana would just slowly dance on a rooftop with a cigarette in her hand. It's probably what she does every time there's a news break about Russian election tampering or the reopening of coal plants. This title is autobiographical.
6. "Cherry"
This is a vintage Lana title, like "Cola" or "American" from Born to Die. She loves a single word track that's at once vague and hyperspecific. Is it about a piece of fruit? Is it about innocence? Is it about her? Is it about sex? Is it about America? Of course it's about America. They all are. But what else? It, like Lana, is everything and nothing.
5. "13 Beaches"
There are few things this smokey-voiced native New Yorker loves more than Los Angeles. Her album cover for Honeymoon had her sitting in a StarLine tour bus. In the "Lust for Life" video she sits atop the Hollywood sign and dances with the Weeknd. Her discography plays like an infinity soundtrack to a modern-day L.A. noir film. It's a simple title, which Lana also loves, and evokes the sun-soaked shores of her beloved L.A. at sundown.
4. "Lust for Life" ft. the Weeknd
Despite never leaving the middle register, Lana's music is somehow about drinking from the gourd of life. How someone can sound so sad and sing so convincingly about the world being hers in stolen moments and having a romance that is forever hot like July is a real mystery. But then again, so is Lana.
3. "Coachella — Woodstock in My Mind"
This is 100 percent Lana's aesthetic.
2. "Heroin"
Lana's music sounds like the feeling a person gets in the 30 seconds between this titular drug hitting their veins and the opioid nap taking over. Think of any time you've seen a person use heroin in a movie or TV show, when their eyes flutter and their body just slouches down. Is Lana Del Rey's music not the exact sonic equivalent of that? Calling a song "Heroin" is just like a meta acknowledgment of her entire vibe. Or maybe it's a Velvet Underground cover.
1. "Beautiful People Beautiful Problems" ft. Stevie Nicks
Is there anything else that Lana Del Rey has actually ever sang about? "Beautiful People Beautiful Problems" is less a song title than it is the LDR mission statement.