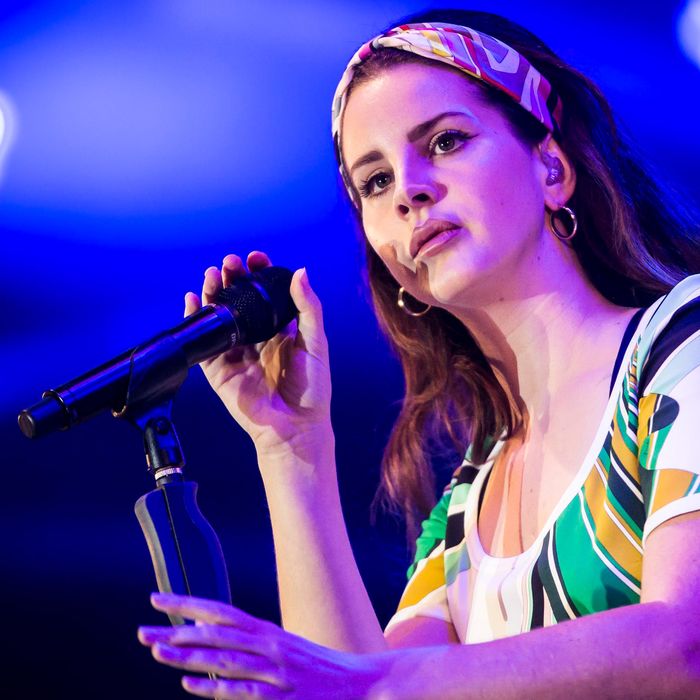 Lana Del Rey.
Photo: Danny Lawson/PA Images via Getty Images
Album thirst is a fearsome malady in any case, but when the upcoming album is Lana Del Rey's, the thirst is sure to be extreme. Her first three albums focus directly on desire — being the one desired, getting what you desired, and forgetting what you desired, respectively — and given that her fourth is titled Lust for Life, it seems likely that the streak will continue.
When the news hit late last night that album four had been leaked, the response from fans was frenzied. No matter that an album awaited for two years could have been awaited for a few more days: Many fans, unable to resist the temptation to dive into Lana's latest fantasia, clicked the requisite download links, and gorged themselves on Lust before the table had been set and grace pronounced.
Lana wasn't happy. Records dating as far back as 2011 show the singer in Beijing expressing disappointment that the video for "Born to Die" had been leaked by Russians. Upon discovering that her meticulous rollout for Lust for Life had been spoiled near the last second, she responded immediately on Twitter: Seeing a tweet reading "Omg l4l leaked cya in a hour" from a random account, she delivered a fitting, elegant reply, then proceeded in subsequent tweets to demand the download link so that it could be taken down.
Though she knows a thing or two about the poetry of unbridled wanting, it's entirely in keeping with Lana's image that she should want to keep her music under wraps until the time assigned for its release arrives. As an interview with Pitchfork released today reveals, Lana's had problems with beyond-intrusive behavior from fans: "Someone stole both my cars. All the scary shit. I've had people in my house for sure, and I didn't know they were there while I was there." There's no inherent reason why longing for the art should overtake respect for the artist, but it seems as if certain listeners can become so invested in Lana's mythical persona that they forget she's human with a right to her own space and time. Her tweets last night displayed a contempt she's never committed to song (or tweet), demonstrating the distinction between her sonic persona and her real-life personality.
For the good people seeking ways to while away the time until Lust for Life's late Thursday night/early Friday morning launch, a deep dive into Lana's Twitter feed (at 890 tweets, it's possible to reach the bottom) makes sense. Quotes from Ginsberg and Eliot and Goodfellas, commitments to her gift, the word "GATSBY" in all caps, assorted other statements — all are freely available for one's reading pleasure. Cheers to all the loyal fans, jeers for all the "little fuckers" — in any case, life, and the wait for Lust for Life, goes on.