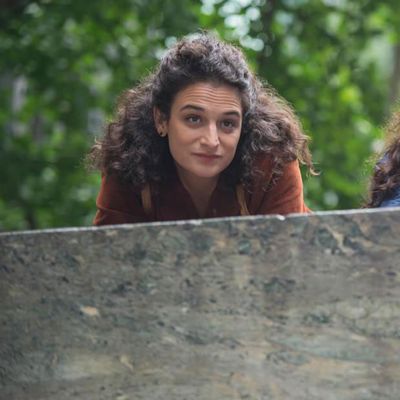 Jenny Slate and Abby Quinn in
Landline
.
Photo: Amazon/Magnolia
"This isn't so bad," says teenaged Ali (Abby Quinn) near the end of Landline, after all the chips and tears have fallen and the three women in the Jacobs family are sitting on the bathroom floor, lighting up cigarettes and assessing the situation. The line is accurate — nobody dies in Landline, and the Jacobs' charming upper-middle-class, mid-'90s Manhattanite existence is never threatened. They don't even have to sell their vacation home. But despite multiple characters dancing on the edge of catastrophe, Landline, from Obvious Child director Gillian Robespierre, was never selling disaster in the first place. It's a light musing on adulthood and monogamy and sisterhood, washed in Pavlovian period nostalgia. The revelations are gentle, but worthwhile.
The film opens with the elder Jacobs sister, Dana (Jenny Slate), and her fiancé, Ben (Jay Duplass), awkwardly attempting to have sex in the woods. Their communication and sense of each other in this would-be intimate moment is comically horrible; on first guess it seems they've either been married for years or are strangers. That wrong guess plays right into the dynamic Robespierre's setting up, and the plot kicks into gear when Ali discovers that their father Alan (John Turturro,) whose relationship with their mother Pat (Edie Falco) has long since turned cordial, is having an affair. When Dana gets cold feet about her engagement — so cold she begins an affair of her own — she moves in indefinitely with her family, and she and Ali become consumed in figuring out who their father's mistress is.
One wishes we could have seen an earlier, happier version of the Jacobs' marriage; a foul-mouthed intellectual but ultimately loving family headed by Falco and Turturro sounds like an unimaginable fantasy. (Someone make the immersive VR experience of that, please.) Even with the chill in the air, the pair are a blessing onscreen, and the sight of Falco in a pink Hillary Clinton pantsuit will be worth the price of admission alone for some viewers. Yes, the '90s of it all becomes a bit much at times, but by the time Pat hits a low point and heads to a disco night at a dive bar to dance with a stranger, it's clear Robespierre and co-writer Elisabeth Holm know what they're doing with nostalgia as a dramatic device. We always imagine there's a more fun, untethered version of ourselves that exists in a bygone era; trying to access that person is just asking for pain and disappointment.
Robespierre and Slate found an energetically frank dynamic together on Obvious Child, and with Landline one could almost start likening them to a two-headed female Woody Allen, all neuroses and blurted asides. (The script tips its hat at one point with the line, "Wanna get high and watch Zelig?" which feels plucked right out of a to-be-written Drake song.) Slate has the advantage on Allen as a screen presence, though, in her gurgling waves of seemingly uncontrollable laughter, which always seem to crest when things are getting a little too serious. That sound alone makes Landline skew more toward comedy than drama, but it's also as heart-stoppingly human and sympathetic as any tearjerker. I've argued before that Slate should be the queen of modern-day rom-coms, if such a position was open. Add Landline to the evidence pile.
Individually, Dana and Ali explore their own period-specific sides of Giuliani's Manhattan: Dana does layout at Paper magazine by day and attends slam poetry sessions by night; Ali sneaks out at night to dabble in snorting heroin with the club kids. There is something arrestingly tragic about Quinn's performance; she's the only character one suspects may be permanently scarred from the events of the film, despite her aforementioned insistence to the contrary. When she finds out about Dana's own affair, her tough bad-kid exterior melts away as she's genuinely scandalized by the lack of fidelity of the adults in her life. While Pat and Dana flirt with a break from their reality before running back to the safety of the familiar, its easy to imagine Ali straying further from the fold. In the end, the Jacobs family still finds a way to stick together and live with each other's imperfections. But among the three women, there's an invisible cynicism that's been passed down and can't be taken back.