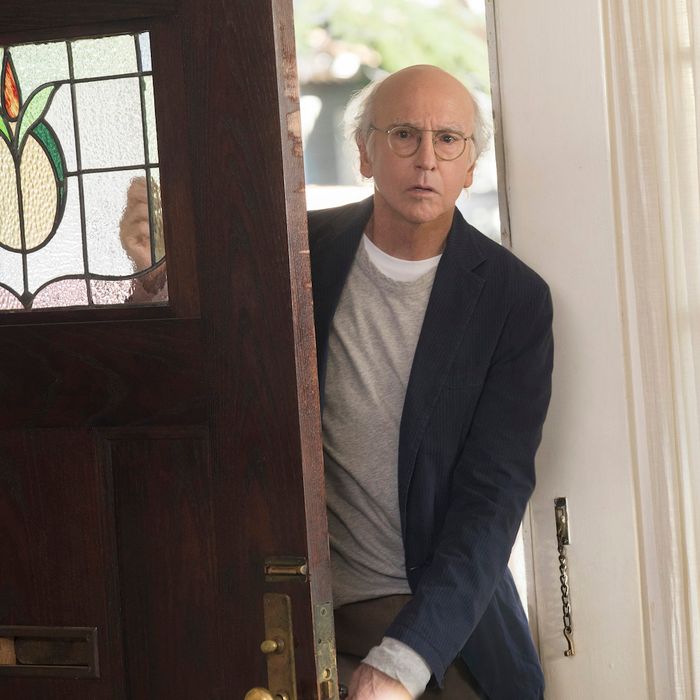 Photo: John P. Johnson/Courtesy of HBO
After five long years, Larry David and HBO's Curb Your Enthusiasm are back. At the Television Critics Association press tour on Wednesday, David debuted scenes from the long anticipated ninth season of Curb Your Enthusiasm, which will jump ahead six years and reveal what each character has been up to in the season's first episode.
The clips are classic Curb: When a couple makes out near Larry's office, he tells them to move along and the guy says, "Two people aren't allowed to be happy?" Larry: "You're allowed to be happy, but not in front of me." In another clip, an employee skips work for two days because she's constipated and Larry screams, "The whole world is constipated!" In perhaps the most exciting snippet, Larry takes his neighbor to court in front of Judge Judy — yes, that Judge Judy — for trespassing and stealing a ficus plant.
In addition to Judge Judy and Bryan Cranston (who plays a therapist, in a slight change of pace from the dentist he played on Seinfeld), Curb actors Richard Lewis, Bob Einstein, Ted Danson, and Cheryl Hines will all return to the new season.
At the TCA panel for the show, David was in full "TV Larry" persona — which he explained is not all that different from "real Larry" — and he was joined by series regulars Susie Essman, Jeff Garlin, and J.B. Smoove, along with executive producer Jeff Schaffer. The raucous half-hour session was light on new information or in-depth answers, but full of laughs.
Here are David's highlights:
On whether President Trump, with his penchant for making headlines for his blunders, is Larry's competition:
You talking to me? Well, I don't consider myself a prick.
On why now is the right time for Curb to return:
Why not? You know, I'm not a miser, so to speak. I don't really miss things, people that much. But I was missing it. And I was missing these idiots. So I thought, "Yeah, what the hell?" I got tired of people asking me, "Is the show coming back?" I couldn't face that question anymore. And I wasn't ready to say no, never. And I kept saying, "Maybe, who knows?"
On why Larry plays golf:
I don't know if you're aware of this or not, but TV Larry is just a quarter-of-an-inch away from real Larry. Real Larry plays TV Larry.
On whether people avoid him on the street:
What? What? Why do you think they want to avoid me? Unfortunately, they don't avoid me.
On whether he's constantly finding fodder for the show:
A lot of people think they're providing me with fodder, but they're not. All of a sudden, I'll write something. "Did I just say something? Did I just give you that?" No, you didn't. Shut up!
On whether he uses social media:
Alas, no.
On his upcoming episode of Finding Your Roots, in which he learns he's a distant cousin of Sen. Bernie Sanders:
I was very happy about that. I felt there had to be a connection. I also found out I have Nazis in my family … no, no, but there are slaveholders, though.
On how he felt about turning 70 and whether he'll mark the occasion with something special, like the upcoming Steven Spielberg documentary on HBO:
Extremely unpleasant, very unpleasant experience. Thank you for reminding me. There will be no documentaries, suffice to say.