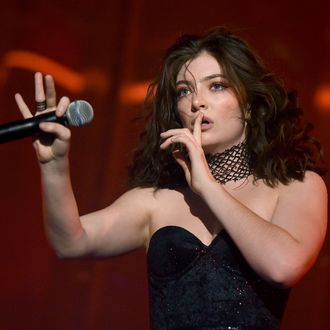 Photo: Kevin Winter/Getty Images for Coachella
Lorde has no desire to address petty internet rumors about whether or not she shaded her ride or die, Taylor Swift, but in the interest of protecting the friendship she will kindly shut down your speculation about it. In a recent interview with an Australian news outlet, Lorde was asked how she dealt with being surrounded by very famous new friends and having access to her musical inspirations after Pure Heroine made her part of the pop-royalty set. Her response was, "The second you think too hard about it you just go insane, so it's best to be like 'We're in Wonderland, and that's just what happens around here.' Also, like, I don't hang out with these people at all." Naturally, to the internet, that was code for "Lorde does not hang out with Taylor Swift because they are not real friends," an assertion that annoyed Lorde enough to elicit a response from her on Twitter that is a textbook guide for how to be gently salty with people online.
If you had any further questions for Lorde, stop typing. Your opinions are irrelevant. It's Lorde season, and Lorde has spoken. What actually happened was, after Lorde's "Wonderland" remark, the interviewer exaggeratedly said, "Hang on! You're part of Taylor's squad! All the magazines tell us," to which Lorde replied, "You make friends in different places, but I think for the most part I'm not like calling up my idols for advice, necessarily." So there you have it. The fires of non-drama have been extinguished, and in regards to Taylor, Lorde remains "faithfully her person." Enjoy that walk, everyone.