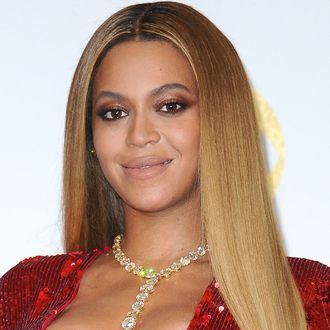 The real Beyoncé.
Photo: Jason LaVeris/FilmMagic
Beyoncé has (probably) left the building. After a photo of a wax figure that is allegedly Beyoncé attracted the ire of the internet, it seems that midtown Manhattan's Madame Tussauds — that place you went on your sixth-grade school trip and have avoided ever since — has removed the human-like structure it tried to pass off as Bey. Per the New York Times: "As of Thursday afternoon, the statue was absent. But it still lives on on social media, where a photograph of the figure attracted criticism from far and wide this week." Critics of the figure (and people with eyes) slammed the statue for having a skin complexion lighter than the singer's own and resembling an entirely different person. See for yourself:
See? Very bad, not at all good. And now — probably thanks to intervention from the Beygency or a stern talking to from Blue Ivy — it is gone! Vulture has reached out to Madame Tussauds' representatives for comment, and we'll update this post if we hear back. In the meantime: Partner, let me upgrade you.