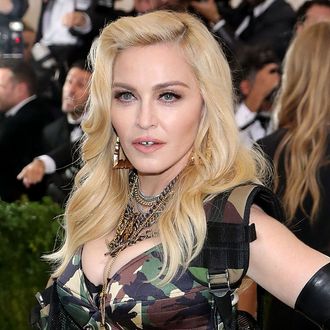 Madonna.
Photo: Neilson Barnard/Getty Images
Earlier this month, TMZ got hold of a revealing letter Tupac wrote in 1995 to his former girlfriend Madonna from prison explaining that their breakup was race-related. The letter is set to go up for sale Wednesday via online auction site Gotta Have Rock and Roll, but if Madge has her way, that won't happen. TMZ reports that Madonna filed an emergency court order in New York City on Tuesday to block the auction. In the order, Madonna claims that the letter, along with other personal items up for sale — "personally worn" panties, other letters, unreleased recordings, and photos — were stolen from her home without her knowledge; she didn't discover they were missing until July 8, days after TMZ published the letter. Madonna says she believes former friend and art consultant Darlene Lutz "betrayed" her by taking the items without her permission. "I have never sold, gifted, transferred or otherwise disposed of the Shakur letter," the order states. She's requesting that the auction be shut down and her items be returned immediately. The site's auction is listed as being open until July 28.
Update, July 19: Manhattan Supreme Court Judge Gerald Leibovits ordered Gotta Have Rock and Roll to pull 22 items from its auction late Tuesday, so it looks like those materials will be going back to the Material Girl.