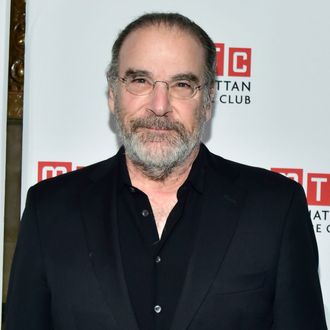 Photo: Eugene Gologursky/Getty Images for Showtime
Mandy Patinkin will no longer be joining the cast of Natasha, Pierre & the Great Comet of 1812. In an email to the New York Times, the Tony and Emmy winner said that he has canceled his plans to star in the show, replacing former Hamilton star Oak Onaodowan. The news of Onaodowan's replacement was the source of controversy this week, as many in the theater community expressed disappointment that a black star was being replaced with a white actor.
"My understanding of the show's request that I step into the show is not as it has been portrayed and I would never accept a role knowing it would harm another actor," Patinkin told the Times via email. "I hear what members of the community have said and I agree with them. I am a huge fan of Oak and I will, therefore, not be appearing in the show." Now, it appears that The Great Comet is without a Pierre: Oak was scheduled to depart the production August 13.
Also on Friday afternoon, show creator Dave Malloy offered a fuller explanation of why the production sought to add Patinkin in the first place. After Josh Groban's departure, the show needed another big name to attract an audience. Malloy said he hadn't considered the optics of replacing a black actor so quickly. See Malloy's explanation, below:
Vulture reached out to the production after Malloy's Twitter thread, but before Patinkin announced his withdrawal. They provided this statement: "As part of our sincere efforts to keep Comet running for the benefit of its cast, creative team, crew, investors, and everyone else involved, we arranged for Mandy Patinkin to play Pierre. However, we had the wrong impression of how Oak felt about the casting announcement and how it would be received by members of the theater community, which we appreciate is deeply invested in the success of actors of color — as are we — and to whom we are grateful for bringing this to our attention. We regret our mistake deeply, and wish to express our apologies to everyone who felt hurt and betrayed by these actions." When Vulture reached out to the producers about Patinkin's departure, they did not have a comment.
Update, 6:30 p.m.: In a statement shared via Twitter, The Great Comet has addressed Patinkin's departure: