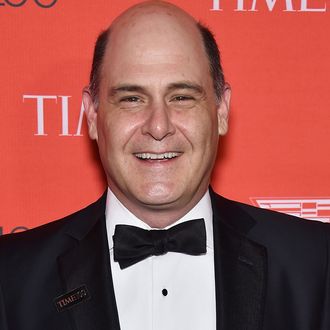 Matt Weiner.
Photo: Dimitrios Kambouris/Getty Images for Time
Frank Darabont's lawsuit against AMC has yielded a lot of entertainment fodder for the public at large. (Well, depending on how you feel about reading someone's abusive emails to co-workers, it could also just make you really angry.) Today, though, anyone following the heated legal battle also learned something about Mad Men showrunner Matthew Weiner. It's no surprise that AMC was backing the money truck up to Weiner's house when its critical crown jewel was still on the air, but in case you were wondering, court documents obtained by The Hollywood Reporter now confirm that the showrunner signed a $30 million deal for just the last three seasons of Mad Men. By season seven, Weiner was earning $275,000 for each episode, plus a $5,000 royalty fee for each.
As you may recall, Mad Men was nominated for and won a lot of awards, which worked out really great for Weiner. From season four until the end, he got a $25,000 bonus for every nomination — which presumably applies to Emmys and Golden Globes — and $125,000 for each win (though money for a win is inclusive of the nomination money). THR also notes that language in this contract implies that seasons one through three likely had award bonuses of $25,000 for a nomination and $75,000 for a win, meaning that given Mad Men's awards history and assuming the bonuses only apply to the higher-profile acting categories, Weiner could have made up to $1.1 million in bonuses alone. Sounds like pretty good work, if you can get it!