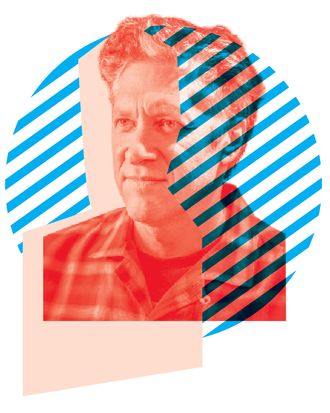 In 1993, Matthew Klam was sitting in his room at the Fine Arts Work Center in Provincetown, where he was a fellow, when he received a call from Daniel Menaker at The New Yorker saying that they were interested in buying his short story "Sam the Cat."
"We like your story," Menaker told him. "We'd like to buy your story. But we'd like you to take out this reference to peptic ulcers. We just ran a piece on ulcers, and Tina Brown can't read any more about it." The story was about a man who becomes enamored with another man he mistakes for a woman at a club one night.
Klam hung up and looked out the window of his room and saw his fellow fellows Paul Lisicky and Elizabeth McCracken walking across the courtyard. "Don't move!" he yelled. He ran down and told them what had happened. McCracken congratulated him. Lisicky asked how long ago Klam had sent the story to The New Yorker, because he'd sent one of his own three months ago and hadn't heard anything. That night they threw Klam a party where he insisted the crowd watch the beloathed Kevin Costner movie Fandango. He sat back while the VHS unfurled on the TV and he didn't get drunk and he didn't dance. Instead, he thought about how smug and entitled he felt, but also tentative somehow. The thing about a short story is that you can cover up a lack of something real in it, particularly if you're entertaining enough. He didn't have another story to follow. He felt lost.
He'd been about to quit writing. He hadn't been at it for too long, but that's the kind of constitution he had. When he was young, he played tennis, but he'd choke away a game and then quit. Once, in seventh grade, he was one of only two kids who were able to hit four feet in the high jump, but he never went near a high jump again. He was captain of the football team in sixth grade; he quit football by ninth grade. And now things didn't seem to be happening for him once he was sitting at a keyboard. When Klam was left to think about short stories long enough, something about them felt like a trifle to him, unimportant, "a thing you'd grow out of after adolescence, like pimples," he says.
But "Sam the Cat" was an outrageous success — it sparkled with human observation that is so true it makes you cringe — so he wrote a short-story collection, also called Sam the Cat, for Random House. The San Francisco Chronicle said that "each story takes on a life of its own." The New York Times called it "smart" and "absorbing." Cameron Crowe optioned the film rights. On the morning of Klam's wedding, Bill Buford asked for edits on "Issues I Dealt With in Therapy," another short story for The New Yorker. Klam won an O. Henry Award, a Whiting Award, an NEA grant, a PEN Robert W. Bingham Prize, and a Guggenheim fellowship. There were six more stories in The New Yorker. James Atlas wrote Philip Roth a letter saying that he really should check out this Matthew Klam, that he'd like him, and so Klam lives forever in Roth's official letters. He was placed on The New Yorker's list of "20 under 40" with people like David Foster Wallace, Jhumpa Lahiri, Junot Díaz, Michael Chabon, Jeffrey Eugenides, George Saunders, and Jonathan Franzen. He got a deal with Knopf for another book of stories.
But with every award and every achievement, the same thought occurred to him: He felt like a fraud. All those awards were for things he was going to do in the future, and he didn't know if he had anything left to say. He didn't know if the thing that was audacious in him that made him write "Sam the Cat" — "Fiction is uncalled for, in both senses of the phrase," he likes to say — was still there. He felt that audacity dwindling.
This thought metastasized. In 2007, he realized he didn't have another short story in him, and in 2008, his Knopf deadline looming, he disappeared.
It's important to remember, Klam explains to me as we drive toward a father-daughter cotillion dance in a suburb of Washington, D.C., that he didn't really disappear — he knew where he was the whole time. He was raising his daughter, Pixie, who was born 12 years ago. He coached her soccer team for years and he made dinner and he waited for her to get out of dance class and he picked up the recital outfits and he lived a life that was important and not filled full time with paroxysms of anxiety about his writing life. He and his wife went out to dinner with friends. They took beach vacations. They dressed Pixie in a cat costume that she was inordinately attached to.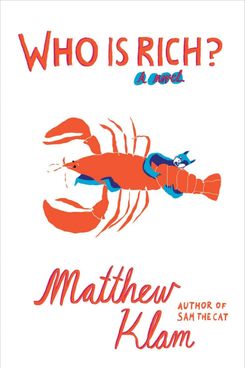 And while she was in school, Klam sat in his unfinished basement, temperature 55 degrees, even with a space heater, and asked himself how to make something again. He threw away what his wife and friends and editors suspect was an entire book's worth of material. Then he threw away another of what his wife and friends and editors suspect was an entire book's worth of material. Eventually, to a lot of people's relief, he emerged from the basement with a pile of paper that he titled Who Is Rich?, his first novel, his first book in 17 years, and if it ever saw the light of day, his first word in print in eight years.
We get out of his car, and Pixie and her friends, in low heels and fancy dresses, rush around Klam like fireflies. They start chatting with him in a way that girls do with a man they see almost every day. After the dance (he did well), we go out for dinner. It's the first warm night of spring. We sit outside and talk about how the first night of spring always makes you feel a little younger than you are.
What happened to Matthew Klam, Matthew Klam explains, wasn't as simple as creative paralysis. He'd gotten a tenure-track teaching position at Johns Hopkins in 2010, in the creative-writing department. It was a welcome respite from the spotlight he'd been under after Sam the Cat, that moment of which his old friend Jake Tapper had said, "He could have sneezed into a pile of papyrus and gotten a book deal."
The sun rose and set and rose and set and he tried to write things that didn't pan out. He wrote part of a novel — "There were girlfriends and there were brothers" — because it felt like the right thing to do; it felt like the normal thing to do. But mostly, he was afraid that his success had been all about voice, and that even if his voice was good, it hadn't evolved enough to justify another piece of writing. "My voice has not changed, and it's not an interesting voice," he says. "It's just my voice. And here's the thing: I've written, in my voice, plenty of shitty fiction."
Teaching allowed him to write and to feel like no one was really watching. "There is nothing more invisible than a professor at a university — nothing," he says. "No kid sees you're alive. They don't give a shit. If you fell over dead in the middle of class, they wouldn't notice. They're 19. I'm 50. It's a good way to work because you're invisible."
The author Alice McDermott also teaches at Hopkins and saw in Klam what she suggests is "the burden of an early and seemingly effortless success." But that's not the whole story, she says. "What makes Matt such a good teacher, and a great friend to talk books with, is the tremendous enthusiasm and energy he brings to his reading: to the work of his students, but also to the published work of his contemporaries. This kind of generous and wholehearted reading can slow you down. Not merely because such reading demands your time, which it does, but also because it saps some of the imaginative energy your own work demands."
Each week he drove to Baltimore, listening to John Slattery read A Farewell to Arms or William Hurt read The Sun Also Rises. He taught stories and chapters from Curtis Sittenfeld and Rebecca Curtis and Tobias Wolff. And each day he returned home from Baltimore and sat in his basement and waited for his novel to become apparent to him.
"He is a perfectionist," Tapper says. "Not with his friends and with his family, but with himself. It's why his narrators are so fantastic; they're completely self-aware to the point of absurdity and tragedy and hilarity. They understand every single selfish impulse, whether they act on it or not. His characters are not deluded. His characters know what's going on and exactly how poorly they're behaving and how much they don't measure up. And that's very much Matt."
"I don't think he was a novelist," his wife, Lara Cox, a psychoanalyst, tells me. "I think he was a short-story writer and I think he really wanted to write a novel and I think he didn't have the tools." He is unrivaled at capturing a moment, she says, and that is a great thing for a short story, but, she suggests, a novel requires a kind of growth that takes some years.
Klam's explanation is simpler. "I didn't know what I was writing was a novel. I wrote 20 pages and I thought, I hope this ends at 35. At 35 I thought, I hope this ends at 70. I know short stories that are almost 70 pages long, and I'll cut it down. At 70 I thought, It'll go to 110, and then it'll be a novella." Every time it got a little longer, all he could think was: This is suicide. "I just didn't know what I was doing." And as it morphed and became the thing it is now, he was more afraid than ever. He was afraid it was bad. He was afraid it was good.
And he was aware that, despite his best efforts, people hadn't stopped watching for his next work. The teaching was helping him find some quiet in which to pretend the stakes weren't quite so high, but off-campus, it wasn't so easy.
There was an essay on the Rumpus in 2013 written by Katie Crouch that beseeched him to put out some more work. "You can't just put out a book of stories that means so much to so many people and then just disappear. It's irresponsible." She continued, "Don't email me. Don't Facebook me. Just get it done." Editors were calling: Hey, man, what ever happened to you? Every time Tapper saw him, which was often, he'd ask what he was working on. "As a close friend and a fan, how could I not ask him?" says Tapper. He was worried about Klam. He was worried that Klam would turn out like the poet Rimbaud, or Eddie from Eddie and the Cruisers.
The other day, the writer Tom Barbash told Klam he has taught one of his short stories a hundred times, and Klam feels the same way about that as he feels when someone asks him if he's ever seen that Rumpus essay: "So what?" Not because he doesn't care, but because what is he supposed to do about it? It was the same line of questioning that had him sitting down at his computer and not writing and asking himself what writing is, anyway. What's a novel? Who asked for this? What does this serve?
It became more and more impossible. "I did it once," he says. "You're going back to the golden goose or something. By assuming it will work a second time, you're taking for granted something that had some mystery beyond my own understanding."
Finally, his hand was forced. As part of his tenure-track review, he had to show what he was working on to his department-assigned mentor and the chair of the department. Klam showed her the first 100 pages of Who Is Rich?. He was worried his voice was no longer special. He was worried it was the same old thing. The department supervisor found the pages "sloppily written" and "glib and cynical" and said that if he didn't abandon the effort, she thought he would lose his job. "They like Updike," Klam explains of his department's reaction and its conventional tastes. "They like Alice Munro. They love Virginia Woolf."
What his supervisor didn't understand was that there was no one harder on Klam than himself. There was no one who was more willing to believe that something was a piece of shit than he was. And, suddenly, forcefully, he was sure that this wasn't a piece of shit. This was his book. He told his boss he was going to keep working on the book, and he got in touch with Andy Ward, an editor at Random House, who'd been asking about him. He sold Who Is Rich? before it was complete, based on 120 pages, in 2013. In 2016, he was denied tenure.
In 2013, he and Lara had refinished the basement. It now has carpeting and workout equipment, including one of those things that turn you upside down to decompress your spine; he demonstrated it for me. The basement has relics of Pixie's early childhood, including the cat costume that used to belong to her that she's outgrown. He moved his computer to the second floor, to that room that was waiting for him. His new office is warm and full of light, and he filled it with a standing desk, and on the walls are a grocery list Pixie once made for him, the review for Appointment in Samarra, a novel by John O'Hara, a map of the world, a bed, a Louisville Slugger, two guitars, and a page out of Lorrie Moore's Paris Review interview, talking about how the story of the story is important, too.
Who Is Rich? is a very funny, very frank, and often shocking book about an affair between a man and a woman at an annual writers' conference at a beach town. It is shocking for its intelligent sex scenes and for its Matthew Klam–particular observations and its outrageous humor about the way people behave when they're in crisis. It is a book-long meditation on the nature of a marriage under the stress of children and financial pressures. "He's exploring the same good questions he was asking in Sam the Cat," his friend the New Yorker writer Paige Williams says, "but with the added textural angst/joy of having had a solid run of fatherhood, and with a stronger existential undercurrent of You Are Running Out of Time."
Most important, though, it's here. It exists. The author Jennifer Egan isn't interested in why it took so long for Who Is Rich? to get here; she's just happy it is. "I think what I mostly felt were welcome similarities — a sense that it was Matt Klam the writer I was rediscovering with delight, after such a long absence."
Finally he got what he wanted. He had wanted to do something good and true and new. Not a replay of everything that happened around Sam the Cat, not the same thing over and over again, not the same awards, that same let's-put-you-on-a-list. He wanted a regular writing life and everything that went with it — a hard drive full of stops and starts and stakes that were drastically lower than the ones that grew from the moment Random House purchased the first book. Just a regular literary career — you know, tenure, a full professorship, a novel every few years. How many times does he have to hear himself explain this?
Another thing that's important for him to mention, he feels, is that none of this was about ambition. It's important that no one thinks of those years as lost years, or thinks that he thinks of those years as lost years. "I guess I think there are other things of value than working, maybe.
It's some struggle between doing and being or something. When I'm writing, I do feel a little bit like I'm destroying something."
When he's working on something, he's consumed by it. He sits up in bed in the middle of the night, needing to fix or adjust or add a new line. "It's a goddamned fever" is how he puts it. "I guess I imagine that there's a version of me that doesn't need to write and could just enjoy being alive." Now that it's over and the book is going out in the world, he is nearly crippled with anxiety about it. He still doesn't know if he did it right. He waits for the people who had the galley to tell him what they thought or a call from his editor. He is busying himself now by writing essays for Lit Hub and The Wall Street Journal. But a novel is a guess and a wish. A novel is something laid bare.
Who Is Rich?, published by Random House, is out now.
*This article appears in the July 10, 2017, issue of New York Magazine. It has been updated to clarify the origins of Klam and Tapper's friendship.