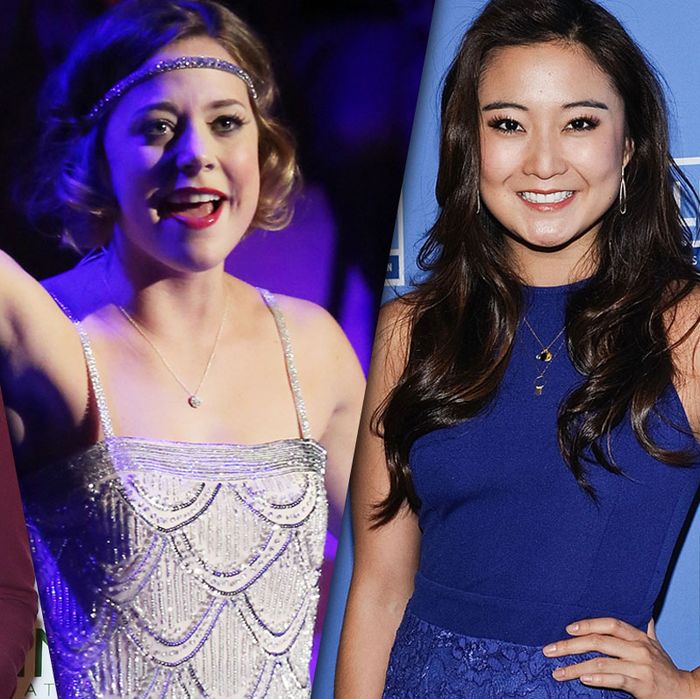 Taylor Louderman, Erika Henningsen, and Ashley Park.
Photo: Getty Images
The plastics are coming to D.C., and not just because Trump is rolling back environmental protections. The musical adaptation of Mean Girls, with a book by Tina Fey, music by her husband Jeff Richmond, and lyrics from Nell Benjamin, will begin its pre-Broadway run in the nation's capital starting October 31 (not the third, sadly). Today the show announced that it has found its cast: Erika Henningsen as Cady Heron, Taylor Louderman as Regina George, Ashley Park as Gretchen Wieners, Kate Rockwell as Karen Smith, Barrett Wilbert Weed as Janis Sarkisian, Grey Henson as Damian Hubbard, Kerry Butler as Ms. Norbury, Kyle Selig as Aaron Samuels, Cheech Manohar as Kevin Gnapoor, Rick Younger as Mr. Duvall.
Do you know all these people? Maybe! But if you haven't spent a ton of time following Broadway shows, you're probably a little lost amid that list of names. Luckily, all these people are performers, which means you can find many of their performances online. Prepare to go down a YouTube wormhole, because we've rounded up some performances and credits for the female Mean Girls players. (Look up the boys yourselves! We can't do everything for you.)
Erika Henningsen (Cady Heron)
Mean pedigree: Henningsen recently nabbed the nifty achievement of being the youngest actress to play Fantine in Les Misérables on Broadway. In other news, here she is singing "Make You Feel My Love."
Mean-girl rating: Not that mean! Which probably makes her a good fit for Cady, who seems like she'll have to carry off a sad ballad or two — maybe "Gruel (Why Did I Have to Call Him That)?"
Taylor Louderman (Regina George)
Mean pedigree: Louderman is currently starring in Kinky Boots across from eternal heartthrob Brendon Urie and she previously starred in Peter Pan Live! and Bring It On the Musical, so she's comfortable with the whole high-school mean-girl deal.
Mean-girl rating: Very intimidating. We hope she does high kicks while singing the musicals inevitable "Popular"-esque "We Wear Pink."
Ashley Park (Gretchen Wieners)
Mean pedigree: Park did some giggly comedy as Celeste No. 1 in Sunday in the Park With George earlier this year and played Tuptim in The King and I before that.
Mean-girl rating: Very intimidating, and able to hit high notes, which is useful if Gretchen ever has to go way up on a line like "my hair is full of seCREEETS." We hope her hair is made sufficiently big onstage.
Kate Rockwell (Karen Smith)
Mean pedigree: Rockwell was also in the original cast of Bring It On (high-school musicals cast high-school-musical people!) and has also appeared in Rock of Ages, Hair, and Legally Blonde.
Mean-girl rating: Given that Rockwell can do a solid Disney princess, she's ready to channel all the obliviousness Karen needs.
Barrett Wilbert Weed (Janis Sarkisian)
Mean pedigree: Weed originated the role of Veronica Sawyer in Heathers: The Musical, for which she got Lucille Lortel and Drama Desk nominations.
Mean-girl rating: Mean enough to attack you with a croquet mallet, so a very good fit for Janis.
Kerry Butler (Ms. Norbury)
Mean pedigree: Butler was the original Penny Pingleton in Hairspray and was nominated for a Tony Award for her role in Xanadu. On Broadway, she's also appeared in Beauty in the Beast, Disaster!, Catch Me If You Can, and Little Shop of Horrors.
Mean-girl rating: For Ms. Norbury, you need less mean and more despair, and luckily Butler's able to channel plenty of that. Give Ms. Norbury a sad song called "Actually, I Work Here!"