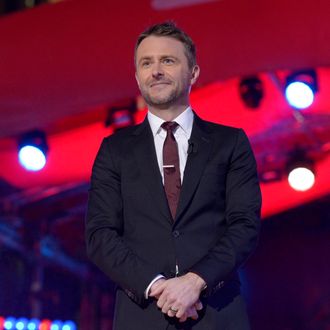 Host Chris Hardwick.
Photo: NBC/NBCU Photo Bank via Getty Images
Comedy Central's @midnight is set to say its final good night later this summer, reports Deadline. The Chris Hardwick–hosted late-night panel show, which featured comedians competing in a series of internet-based games, began airing in the 12 a.m. time slot in 2013 when The Colbert Report was still on the air and The Daily Show was hosted by Jon Stewart. The series quickly became popular among the network's young male viewers and its interactive "Hashtag Wars" segment, which invited watchers and others to play along on Twitter, was a social-media hit. Since The Nightly Show With Larry Wilmore was canceled last August, the series has been airing at 11:30, but instead of moving back to its original time when Daily Show alum Jordan Klepper takes over the coveted slot, the producers and network have come to the reportedly mutual decision to end the program altogether. The special series finale, which is also the 600th episode, is scheduled to air August 4.