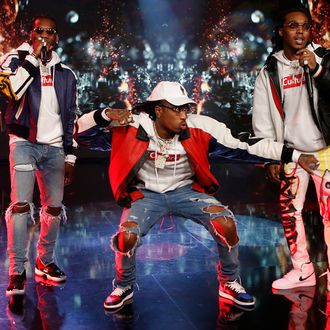 Photo: Randy Holmes/ABC via Getty Images
The popular rap trio Migos was reportedly on the receiving end of some ill-treatment from Delta on Friday evening. Per Variety, the group was traveling from Atlanta, Georgia, to Des Moines, Iowa, for a concert, and all three of them fell asleep in their first-class seats before the plane took off. One of the group's members, Takeoff, was reportedly asked to stow his large carry-on bag in an overhead bin by a flight attendant, but since he was asleep, he didn't hear the request. When the plane made it to the runway, the bag was still on the ground with Takeoff snoozing, and thus the "pilot decided to abort takeoff" and take the plane back to the gate. It's then that Delta removed Takeoff from the flight, with fellow members Quavo and Offset, and their manager, following in solidarity. Delta later rebooked them for a later flight, and they eventually made it to their concert on time.
Now the group's manager and the airline are disputing what exactly occurred on the plane. "Delta flight 1532 from Atlanta to Des Moines returned to the gate, prior to departure, to deplane several customers seated in the First Class cabin who repeatedly refused to follow crew member instructions to buckle their seatbelts and stow carry-on items in the overhead bins," Delta said in a statement to Variety. The group's manager, meanwhile, has told TMZ that this was a clear case of racial profiling and provided a video of a conversation between the group and Delta employees after they were kicked off the plane.
Per Migos' Instagram, Delta ended up giving the group a "whole plane" to take to Des Moines.