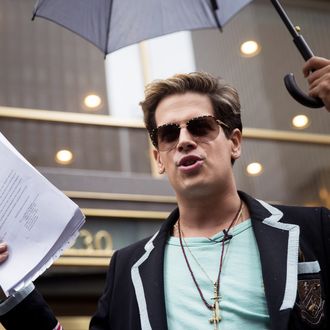 The Milo Yiannopoulos book saga continues, with the alt-right provocateur filing a lawsuit against Simon & Schuster after they pulled out of publishing his memoir, Dangerous, in February of this year.
After news of Yiannopoulos's book deal broke in December, the publishing house faced massive criticism for giving him a platform, which included author Roxane Gay pulling her upcoming book in protest. Though they initially defended their decision, Yiannopoulos lost his book deal shortly after a video of him essentially condoning pedophilia surfaced online.
He went on to self-publish the book and, on Thursday night, threw a raucous book party that reportedly featured "a Hillary Clinton look-alike wearing an orange prison jumpsuit … in a dunk tank waiting to drop into the water."
The following day, Page Six reports, he sued Simon & Schuster for "irreparable harm" and "willful and opportunistic breach of its contract." He added that they damaged "the commercial value of his public persona, including millions of dollars in royalties and fees, as well as permanent harm to the development and exploitation of his stature as an important, sought after media figure and free speech personality."
Full Disclosure: New York Media has a four-book publishing deal with Simon & Schuster.