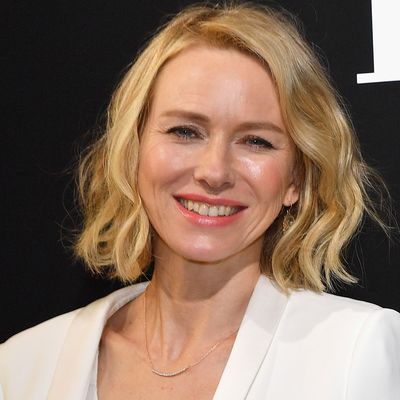 Naomi Watts.
Photo: Dominique Charriau/WireImage
Naomi Watts is having a very busy summer, despite the fact that some of her projects haven't exactly been massive hits. She tried to carry out her son's plan for murder in Colin Trevorrow's Book of Henry, which flopped so badly some wondered if it would get the director forced off Star Wars. She starred in Gypsy, Netflix's psychological thriller that asks just how sad one woman can get while riding the Metro North. And, as we learned recently, she didn't do Big Little Lies, television's premier mom drama. At least Watts has a role in David Lynch's Twin Peaks: The Return, and what might be the single most fascinating account on Instagram. This is an attempt to figure out why we can't look away from it.
Jackson McHenry: Hunter, I'm fascinated by Naomi Watts at all times, but especially this summer. I recently lost most of a Saturday to Gypsy, a show that is not good, but has an excellent Stevie Nicks cover for a theme song, which was enough to lull me into watching far too many episodes. That, in turn, reminded me to watch Mulholland Drive (she's a great actress!) and to start obsessively following her Instagram, in which she shares mundane details from the life of someone who is extremely famous and yet somehow not afraid to overshare. For instance, this morning, Naomi screenshotted a text conversation between herself and Lynch, an enigmatic auteur whom she talks to like an old friend.
Watts has teased her texts with Lynch before on her Instagram stories (Naomi Watts's Instagram stories are also great), but in this shot alone — in which it appears the two are planning a Comic-Con Twin Peaks event — there are so many things to note: Lynch uses the heart emoji. He calls her both "ma'am" and "BITCH." She makes fun of his meditation. She has 32 unread texts! Before I descend into madness, please help me figure out what is going on here.
Hunter Harris: Jackson, I'm so glad we get to unpack this. Naomi Watts really is everywhere right now (except Monterey). Let's start with these unread texts: It's gotta be a group text, right? In my fantasy, she's planning a project with Diane Kruger and Sienna Miller, two other blonde white women who didn't make the Big Little Lies roster. Perhaps a limited series that might one day be described as "Big Little Lies–adjacent." Probably coming soon to Hulu.
One thing I love about her Instagram is that she posts photos and videos from set that are actually enjoyable, which feels rare nowadays. Her Insta is a trove of on-set shenanigans and girls' nights. (I am only slightly miffed that there were barely any shots of the very chic interiors from 3 Generations.) What would you call this silent short from the set of Ophelia to promote The Book of Henry? Naomi Watts is bringing back silent movies.
JM: This is like if you watched Love Actually once years ago and then decided that communicating through poster boards was a normal thing people did. She did a similar thing when she announced a Reddit AMA while done up like she was in an Interview magazine shoot. Also, I'm so glad you mentioned Naomi's girls' nights, because Naomi loves to catch up with her other famous friends. She ran into Isabelle Huppert at Cannes. She did a Gypsy promo event with Goop. She had lunch with seemingly every famous mom in Hollywood, and also Aaron Taylor-Johnson.
Then, perhaps in a whole different category, there are Naomi's photos with her good friend from Australia, Nicole Kidman. She loves to post birthday photos with Nicole, and they are always a delight. (Kidman does not have an Instagram account, and thus does not reciprocate.) There's so much going on in the use of "#❤️ you" alone!
HH: That shower cap photo really is something to behold. The story behind it: At the Crystal + Lucy Awards in 2015, Kidman took the opportunity to re-create a Jane Campion role she passed on early in her career, which called for her to kiss another woman while they both wore shower caps. Imagine them thinking up this stunt during a wine night, Nicole sipping a glass of Malbec, saying, "You know, I'm showing up to this awards show in a few weeks, and I have this idea …" I'd also like to believe that she and Nicole end all their texts to one another with "❤️ you." It's like their thing. That just feels right.
I, like most of America, did not see The Book of Henry. But I did see this photo of Naomi Watts walking on a beach with a Nerf gun in her hand, which is apparently kind of similar to a subplot from that movie? Naomi Watts's secret Instagram skill is that she's a feed for all seasons: She's great at beaches and exceptionally good at snow days.
JM: The use of "#janebond" in that Nerf instagram convinces me that Naomi Watts has thought about what it would be like to be James Bond at least once, after which she send off a text to Rachel Weisz that read something like, "Rachel! How are you?? And how is Daniel??? Is he gonna do more of those movies??? Brunch soon, xoxo." We also need to point out that Naomi's sneakily good at promo-ing her past, current, and future projects. A painting in a museum reminds her of King Kong. She's snuck in some Glass Castle promo with Brie Larson. An older photo of Liev Schreiber is tagged "#raydonovan."
Speaking of which, we should probably mention how much (or little) Naomi Watts chooses to reveal about her personal life. Though she and Schreiber split up last September, she still enthusiastically posts photos of him with their two sons on occasions like birthdays or Father's Day. I'm happy they're making it work, and I'm happy she doesn't confuse him with Joshua Jackson, since I mix up the Kruger-Jackson and Watts-Schreiber breakups constantly. There's nary a trace, however, of her new beau Billy Crudup (according to People), unless he's in a few of those 32 unread texts. What do we make of this?
HH: As someone who only watched the Billy Crudup scenes in Gypsy, I am very in favor of this relationship. (I also want to make sure we're pronouncing Crudup correctly: It's Crew-dup.) I would eagerly double tap any photo that's Watts-Crudup related, but I like that this is a relationship that's hiding in plain sight. I'm sure she'll gradually and gingerly introduce him to her Instagram feed. There will be no goofy shots from their Tribeca walks in the near future; she's got enough #content to #curate as it is! If there's anything I want from her feed next, it's a Reese-worthy livestream. I'd take it over a second season of Gypsy.