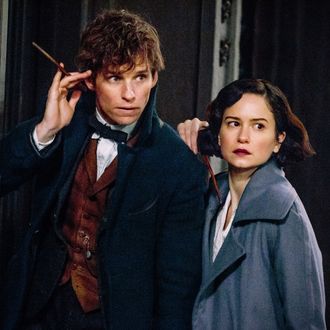 Newt and Tina will return for the sequel.
Photo: Jaap Buitendijk/Warner Brothers
With shooting of the sequel officially under way, Warner Bros. confirmed several Fantastic Beasts details on Monday, releasing a general plot synopsis and reiterating the casting of several key additions, including Zoe Kravitz as Leta Lestrange, Johnny Depp as the unmasked Grindelwald, and, most important, Jude Law as Young Dumbledore. (Accompanying hats pending.) As for what to expect in the plot, the studio teased a globe-trotting wizard chase:
Grindelwald has made a dramatic escape and has been gathering more followers to his cause — elevating wizards above all non-magical beings. The only one who might be able to stop him is the wizard he once called his dearest friend, Albus Dumbledore. But Dumbledore will need help from the wizard who had thwarted Grindelwald once before, his former student Newt Scamander.
The first Fantastic Beasts and Where to Find Them notably flirted with gay allegory, and back in November J.K. Rowling teased that the sequel could depict Dumbledore as openly gay — a fact that takes on intriguing new meanings in the context of his aforementioned relationship to Grindelwald. "As far as [Dumbledore's] sexuality is concerned," the author said at a press conference for the sequel, "watch this space." We'll continue to follow her instructions. It's not like Warner Bros. was going to spotlight any queer content included in the Fantastic Beasts sequel, so we'll just have to wait and see whether a Johnny Depp–Jude Law romance is really in the cards.
The Fantastic Beasts sequel is scheduled for release in 2018.