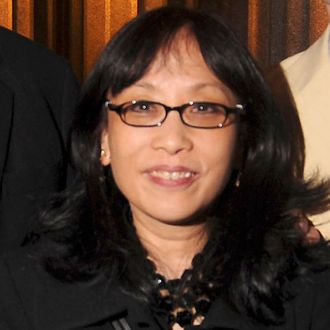 Michiko Kakutani.
Photo: Patrick McMullan/Getty Image
Michiko Kakutani, the long-serving chief book critic of the New York Times and longtime fan of the word "limn," is leaving the paper. Kakutani became a book critic in 1983 and her tenure was marked by her wit, her incisive takedowns of authors like Norman Mailer and Jonathan Franzen (though she later gave Franzen's Freedom a more complimentary review), and her reclusiveness. Kakutani is rarely photographed, but she has become one of the most influential figures in publishing — achieving true New York immortality as a crucial, unseen figure in an episode of Sex and the City. With the news of Kakutani's departure, Parul Sehgal, a senior editor at The New York Times Book Review has been named book critic.*
In a statement to the Times staff, executive editor Dean Baquet said that Kakutani decided to retire, noting that "no figure has played a larger role in guiding readers through the country's literary life over the past four decades than Michi." According a scoop at Vanity Fair, Kakutani has decided to take a voluntary buyout currently offered to Times employees and has a "desire to branch out and write more essays about culture and politics in Trump's America" (she recently reviewed a biography of Hitler with an eye to Trump). If Kakutani truly wishes to branch out, we suggest she start with a guest spot as herself on Younger.
*A previous version of this story said Sehgal would replace Kakutani as chief book critic, which is not the case.