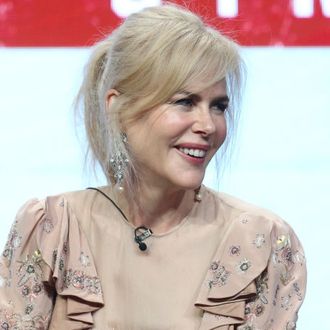 Nicole Kidman at the
Top of the Lake
TCA panel.
Photo: Frederick M. Brown/Getty Images
From Big Little Lies to her dominant Cannes showing to Jane Campion's upcoming Top of the Lake sequel, it's hard to think of anyone having a better 2017 than Nicole Kidman. And, at the Television Critics Association summer press tour on Saturday, the actress made clear that no one's more aware of her mid-career surge than she is. "To have this year — it makes me cry — with all of these things [coming] together at the same time, it's phenomenal," Kidman said while on the Top of the Lake panel. "I don't know how that happened because it was not thought out — it was given to me that way. I just bow down and I'm very, very grateful."
Kidman is also clear on one huge reason why she's again being vaulted into the cultural spotlight: television. The Oscar winner explained that, having been part of two acclaimed, women-centric series in one year, she's merely going "where the great roles are." "I love that for the two series that I've done on TV, I'm sitting with women up here," she added, referring to her two visits to TCA in 2017 (the first being for Big Little Lies). "Is something changing? I know that I'm not sitting up here with men. I'm sitting up here both times with women and that means that the roles are here, the roles are in television, and that's really exciting." So is she open to doing more TV? "Absolutely." She got more specific: "I would love to be able to do a comedy — I never get offered them," she said. "I'm willing to fall flat on my face. I know how to get back up again. I'm willing to get back up again." Please, great TV comedy minds, for her next starring vehicle, give Nicole Kidman the chance to fall flat on her face.
SundanceTV announced Saturday at TCA that Top of the Lake: China Girl, co-starring Elisabeth Moss and Gwendoline Christie, will air as a three-night event from September 10-12.