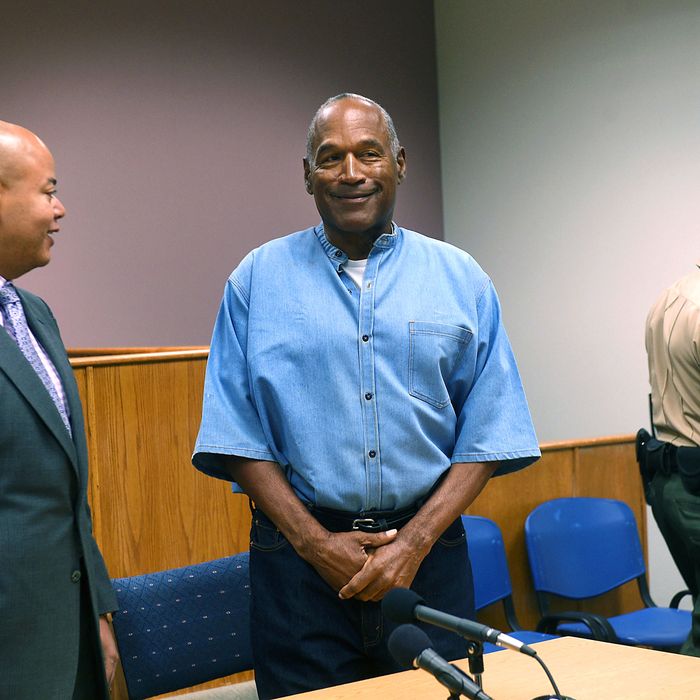 O.J. Simpson arrives for his parole hearing.
Photo: Jason Bean - Pool/Getty Images
O.J. Simpson has been granted parole after serving nine years in prison for a 2007 armed robbery in Las Vegas. His sentence could have lasted as long as 33 years after his 2008 conviction on 12 charges, including kidnapping and armed robbery. Now he could be free as soon as October 1.
The decision came Thursday afternoon after a 75 minute hearing and about 30 minutes of deliberation by the four members of the Nevada Board of Parole Commissioners. All four members, one of whom made it clear that he's a football fan, voted to set Simpson loose.
The hearing began at 10a.m. Nevada time with the chairman of the parole board, Connie Bisbee, laying out factors that would be considered in deciding whether Simpson should be granted parole. She cited two mitigating factors, including his lack of a prior conviction history. Commissioner Tony Corda returned to this issue when announcing his decision to grant to parole, saying the decision was based, at least in part, on Simpson having "no prior conviction of criminal activity."
Though technically accurate, that line stood out given the widely held belief that Simpson got away with murder in 1994. As Commissioner Susan Jackson said in the hearing though, the murder charges Simpson faced in 1995 for the killings of Ron Goldman and his ex-wife Nicole Brown Simpson were not to be considered by the parole board. As she said this, she held up a stack of letters sent to the board arguing against Simpson's release.
The hearing largely consisted of Simpson answering questions about the 2007 robbery and explaining how he's become a better man during his time in jail.
While explaining the incident Simpson cast blame on anyone but himself. He portrayed himself as a devoted family man who's suffered while missing "36 birthdays with my children" during his time locked up in Nevada's Lovelock Correctional Center.
Turning to the subject of him time in prison, Simpson claimed that he was a model inmate. He was the commissioner of an 18-team softball league. He helped set up a Baptist service and "attended religiously." He was often called on to mediate conflicts.
Finally, over an hour into the hearing, Simpsons said he was sorry, but it came with a caveat. "I am sorry that things turned out the way they did. I had no intent to commit a crime," he said, still refusing to accept full responsibility for the incident.
The most remarkable moments in the hearing came when Simpson made statements that the world knows not to be true. At one point, he said, "I'm not a guy who lived a criminal life." Even if you don't think he killed Ron Goldman and Nicole Brown Simpson, his extensive history of domestic violence is hardly in dispute.
Few people know that better than Christopher Darden, a former prosecutor who participated in the case against Simpson during his time with the Los Angeles District Attorney. Appearing on NBC News after the hearing, Darden took particular issue with Simpson's claim that "nobody ever accused me of pulling a weapon on them."
"No one ever accused him of pulling a weapon on them, because the people he pulled a weapon on are dead," Darden said.