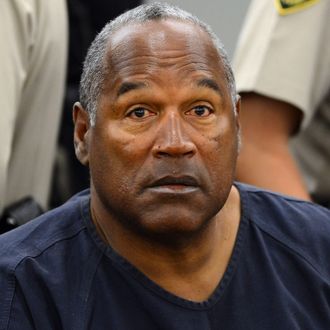 Simpson.
Photo: Ethan Miller/Getty Images
Starting at 1 p.m. ET today, O.J. Simpson will have a parole hearing to determine whether he has served enough of his 9- to 30-year prison sentence, doled out in 2008 after the former football star attempted armed robbery to reclaim some of his allegedly stolen sports memorabilia. For those who watched Ezra Edelman's remarkable, Oscar-winning film, O.J.: Made in America, the crime, trial, and sentencing were covered in the fifth part of the documentary, including a discussion of how the judge may have used the '08 trial as payback for Simpson's acquittal of the murders of Nicole Brown Simpson and Ron Goldman.
For anyone who wants a preview of what is bound to be a future season of Ryan Murphy's American Crime Story, here are all the ways to catch the parole hearing:
CBSN and CBS Sports
CBS News' online feed will have the hearing at 1 p.m. For more of a sports angle, CBS Sports will have a stream up as well.
NBC News
NBC will also be featuring the sentencing at 1 p.m. on their livestream.
ABC News
ABC will air the hearing on their stream at 1 p.m., while you can also find additional coverage of Simpson on ABC News' site, including a discussion with Ron Goldman's parents on Good Morning America.
News 3 Las Vegas
For those looking for some local coverage, NBC's affiliate News 3 Las Vegas will cover the parole hearing of Nevada's most famous inmate here.