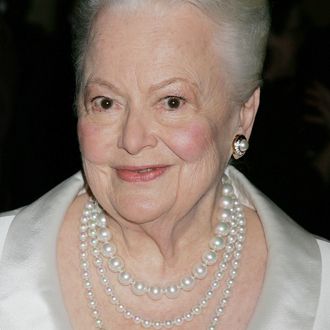 Olivia de Havilland.
Photo: David Livingston/Getty Images
Olivia de Havilland is a living legend who would like to sue Ryan Murphy — before her 102nd birthday, thank you very much. Vulture learned through a statement that lawyers for the centenarian actress filed a Motion for Trial Setting Preference today for her lawsuit against the megaproducer and FX Networks for the "unauthorized use of her name and identity" in Feud: Bette and Joan. The motion is part of a California statute that allows persons over the age of 70 to request an earlier trial date, which she, at 101, certainly should qualify for. If the motion is granted, the trial could happen as early as November.
Among de Havilland's complaints about Catherine Zeta-Jones's portrayal is her assertion that the show hurts her reputation by casting her as a malicious gossip who refers to her own sister (actress Joan Fontaine) as a "bitch." The show did, however, accurately re-create her fabulous look at the 1978 Oscars, down to the the diamond necklace — not that that changed her opinion of the mini-series one bit. Is it too late to make the second season of the anthology Feud: Living Legend vs. Ryan Murphy?