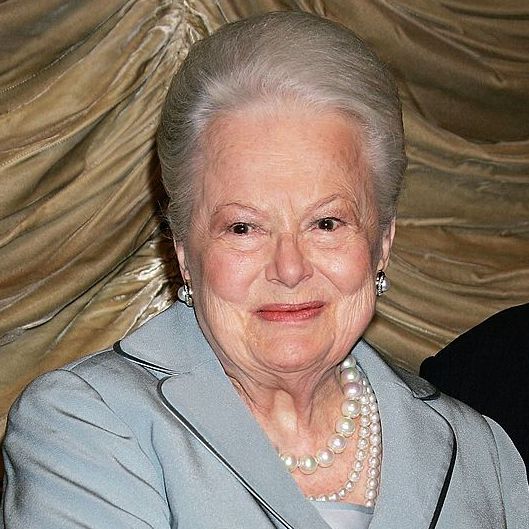 De Havilland wants Murphy to know he messed with a "living legend."
Photo: David Livingston/Getty Images
On the eve of her 101st birthday, Oscar winner Olivia de Havilland filed a lawsuit, via her attorneys, against FX Networks and Ryan Murphy Productions for "unauthorized use" of the actress's name and identity in the limited series Feud: Bette and Joan. Back in April, de Havilland was seemingly too busy living the good life in Paris to watch the show, telling The Hollywood Reporter that she "cannot make a valid comment about it." Now, it seems, she can — and it's none too positive. Her lawsuit, which can be read here, is meticulous and thorough. But it's also rounded out by a delicious combination of sly refutations, intriguing bits of information, and totally appropriate reminders of just how distinguished and beloved of an actress de Havilland is. (Don't worry: She's got receipts.) The whole thing is fascinatingly Murphy-esque — like the beginnings of a juicy rivalry with just enough oomph to play as the ingenious setup to Feud season three. Drawn entirely from the filing, the seven points listed below about de Havilland should make for a fine starting point in that regard. Pay attention, Ryan Murphy.
Murphy messed with a "living legend" who has been honored by the Queen.
De Havilland is quite literally positioned in the lawsuit as a "living legend," so adored that it would be an "understatement" to say she's "beloved and respected by her peers." The filing details her successes at the Academy Awards, and also notes the many other awards she's received over her lifetime: the Legion of Honor award in Paris, the National Medal of Arts in the U.S., and a damehood by the Queen of England. Oh, and did you know that she received a standing ovation at the 75th Academy Awards that "lasted a full 4 minutes"? The subtext here is clear: Mr. Murphy, you've messed with Hollywood royalty.
De Havilland is basically an American hero.
Before getting into Feud or even de Havilland's stature within Hollywood, the lawsuit highlights the actress's patriotic and selfless background. "During and after World War II, she visited United States service personnel in military installations and hospitals for a total 'salary' of $0.50," the filing reads. "Her life was at risk a number of times and she was injured on one of these trips, but she refused to stop." The text then directs readers to Exhibit B: a contemporaneous article from 1958 celebrating de Havilland's service to her country. You thought this was just a Hollywood hero we were talking about?
She finally watched Feud. She was not impressed.
The filing cites many specific examples from Feud to back up its claims, but broadly, it speaks of the show as "pure fiction," "fake," and "patently false," benefiting "from the wrongful and false exploitation of Olivia de Havilland's name, identity, and likeness and the false statements put into her mouth." Ouch.
She doesn't gossip — but she knows things.
The lawsuit specifically hones in on Feud's depiction of de Havilland (played in the show by Catherine Zeta-Jones) as a "petty gossip" who shamelessly spills secrets about peers such as Bette Davis in order to "promote herself at the Academy Awards." In reality, according to the filing, nothing could be further from the truth. "De Havilland has built a professional reputation for integrity, honesty, generosity, self-sacrifice, and dignity," it reads. "She has refused to use what she knew about the private or public lives of other actors (which was a considerable amount) to promote her own press attention and celebrity status, and this aspect of her character was, and is, both commercially and personally valuable to her." Let's go back to the "considerable amount" part of that statement: Folks, this is de Havilland, at 101, revealing she has plenty of that good Hollywood tea to spill. Murphy has surely taken note already.
Okay, fine, Feud totally nailed de Havilland's elegant look at the 1978 Oscars.
The lawsuit's description of Zeta-Jones's portrayal can't help but get a little admiring as it focuses on her costuming and makeup.
Zeta-Jones' … appearance was designed to appear as close as possible to Olivia de Havilland's real-life appearance at the 1978 Academy Awards. Her black gown, capped with sheer sleeves, is exactly the same. Her diamond necklace, hanging from a black cord, is copied, as are her dangling earrings. Even her hair, which was coiffed out at the back for the ceremony in real life, has been replicated with precision. The make-up team of Feud even fitted a chin prosthetic to Zeta-Jones in order to further duplicate the actual appearance of Olivia de Havilland at the 1978 ceremony.
She is not happy with Feud's fictional "documentary" interviews.
If there's a sticking point in this lawsuit — the one detail of Feud that is considered most heinous by de Havilland and her attorneys — it is the show's framing device, wherein de Havilland provides commentary on the Bette Davis/Joan Crawford feud at the '78 Oscars. The series opens and closes with de Havilland and others putting the rivalry into context; during one scene in the first episode, de Havilland sympathetically explains that "feuds are about pain," a line which guides the show thematically. The filing returns to the device again and again, however, without much interest in its artistic value. The text consistently refers to it as a "false" series of interviews that exists solely to push Feud's "commercial interests." One excerpt sums up the feeling particularly efficiently: "All statements made by Zeta-Jones as Olivia de Havilland in this fake interview are completely false."
"Olivia de Havilland never referred to her sister as 'bitch sister.'" (Paragraph 24)
To reiterate: "Olivia de Havilland never called her sister a 'bitch.'" (Paragraph 26)
Well, as long as that's settled.