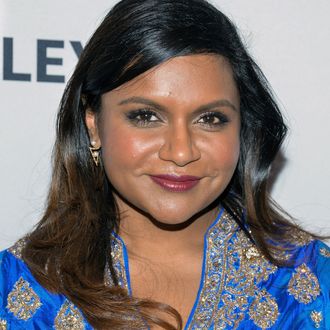 Photo: Grant Lamos IV/2015 Getty Images
You get a pregnancy update! And you get a pregnancy update! Like something straight out of a modern-day rom-com, Mindy Kaling is pregnant with her first child, and various publications are claiming that she's choosing not to reveal the child's father. (Real talk, if it's not B.J. Novak, then, sigh.) In fact, despite "sources" and "cool Hollywood insiders" confirming the pregnancy news to outlets, Kaling herself or her actual friends haven't spoken publicly about it … until now. And, boy, do we have a confirmation source or what. Kaling's A Wrinkle in Time co-star Oprah Winfrey casually let the news slip yesterday while in conversation with People. In fact, she didn't even know Kaling's milestone until that Disney D23 expo earlier this month.
"That's when she told me. My mouth dropped," Winfrey recalled. "'What did you just say?' she said, 'Oh, Oprah, I don't think you know. I'm five months pregnant.' And I said, 'WHAAAAT?!' That was it, and we just kept smiling. And then I said to [Reese Witherspoon], 'Did you know?' and she said, 'I just found out, too.' And then I said to [Ava DuVernay], 'Did you know?' And she said, 'I just found out.'" Sounds about right.