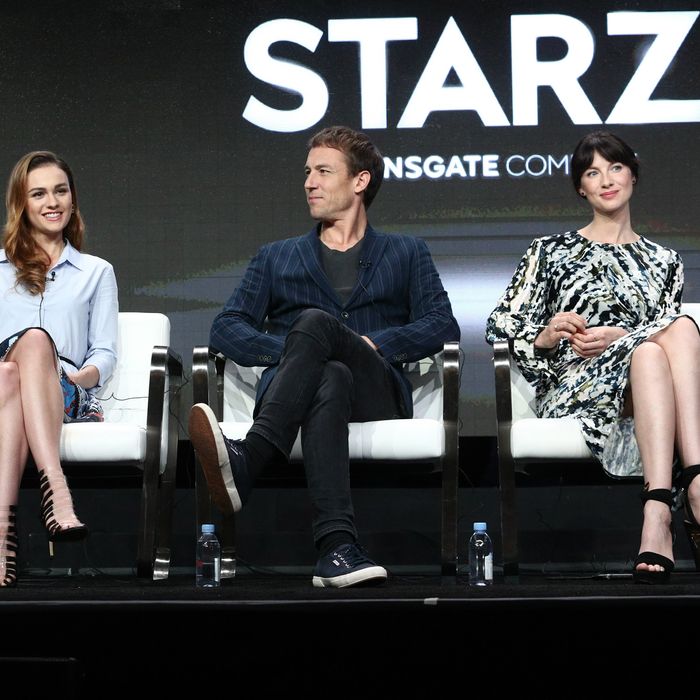 Photo: Frederick M. Brown/Getty Images
Spoilers below for the third season of Outlander.
First thing's first: Yes, Claire and Jamie will reunite in the third season of Starz's Outlander, but not before Jamie faces off in a final, epic battle with the evil Black Jack Randall. As series creator Ronald D. Moore and the Outlander cast explained at the Television Critics Association press tour on Friday, fans will have to wait a while until the newlywed Frasers see each other again.
"The great gift of doing a series like this is you get time to really get to know your character and explore different elements," star Caitriona Balfe, who plays Claire Randall Fraser, said at the TCA panel. "This season in particular, being able to create this woman over a certain period of time is really interesting."
Balfe says that her character's fate is particularly interesting given last season's cliffhanger, which sent Claire back to post–World War II, separating her from Sam Heughan's Jamie Fraser shortly before the deadly Battle of Culloden. "How does that change how they interact with people in their lives, with everything?" she said. "I loved being able to play that."
Below, the highlights from the TCA panel about Outlander season three, which premieres on Sunday, September 10.
Black Jack Randall will get a proper send-off.
Tobias Menzies plays both historian Frank Randall and his nefarious ancestor, Jonathan "Black Jack" Randall — or at least he did until the beginning of the third season. "I think it's a difficult story line to tie up," Menzies admitted, saying Black Jack and Jamie "meet on the battlefield of Culloden" and that the death is filmed "almost in flashback and it's Jamie's hallucination as he remembers fragments of this encounter." He added, "It's a fitting end to a quasi love-affair."
Claire and Jamie won't immediately be reunited.
The newlyweds will be apart for what Moore calls "the right amount of time." As he explained at the panel, it's "enough [time] to build a want, a desire in the audience to get Claire and Jamie back together so they were really pushing for it and getting excited, but it wasn't dragging along."
But just how long, exactly? After 20 years apart, Clare and Jamie will reunite in the fifth episode of the new season. "It felt like to do that justice you had to really give it some time and some space," Moore explained. "You don't want to brush over it and prepare like nothing really happened."
Don't expect any surprise Randalls … yet.
Moore acknowledged that "the Randall family tree is very broad," but that doesn't mean we should expect to see other members of the family anytime soon. "There are no plans for that," Moore said. "Tobias has been part of a key show from the beginning and it's hard to imagine he won't be a part of that going forward. Never say never. There could be various flashbacks. We do have a time-travel show […] we don't have anything on the boards at the moment."
The show isn't going to pass the books, à la Game of Thrones.
Moore said it's unlikely the show will ever catch up with the source material, as novelist Diana Gabaldon is quite prolific. "She will tell us the end of the story," he explained. (Gabaldon is currently writing the ninth Outlander book, and season three will only cover the events of Voyager, the third in the series.) In other words, fans should expect the show to stick around for a long, long time: Executive producer Maril Davis says they'll stay on as long as Starz will have them.
Filming on a boat is no fun.
Part of this third season is set in Jamaica, which meant leaving behind the Scotland sets for uncharted waters — specifically, the boats that are used in another Starz series, Black Sails. Heughan and Davis admitted they got a bit queasy, and Balfe said she almost got sick when she smelled the prop vomit that was made for one particular maritime scene.
The newest cast members know that Outlander loves sex scenes.
Sophie Skelton, who will play Jamie and Claire's daughter, Brianna, said that her character has a "very different type of relationship" with her beau, Roger (Richard Rankin) than what we've come to expect from the show. "They're both kind of geeky and they have this awkward stumble of a relationship, so I wouldn't say they're the sexiest … "
"With Roger and Bree, there's always a push and pull," Skelton added. "They're just as stubborn, but in a very different way. They kind of use each other as punching bags."