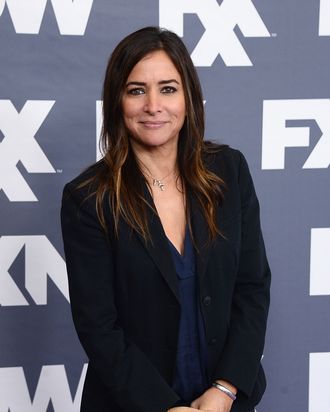 Adlon.
Photo: Matt Winkelmeyer/Getty Images
This is Pamela Adlon, who has been acting for 39 years, on her first major Emmy nomination: "I'm so happy, I'm stunned. Listen, you don't even have to ask me any questions. Stunned. Crying. Fucking. Just fucking! I am shaking. I can't believe it. I've never ever been a part of an elite place that people are throwing their gaze to. It's an unbelievable thing. It just feels so surreal."
In a five-minute conversation with Vulture Thursday morning, as she got ready for a ride to the airport to return to Los Angeles, Adlon, the star, creator, and executive producer of FX's Better Things, sounded a bit scattered. She had been weeping, she said, for a straight 45 minutes. A couple of times during the conversation, while trying to sum up what it all means to her, she choked up.
And during an earlier phone conversation with her partner Louis C.K, they both also cried. He was also nominated twice for his Netflix comedy special. "He was crying too! Not just me," she said. "We are all so stunned and happy."
It's not that Adlon hasn't been nominated before. She's been recognized for her work as a guest actress and as a writer-producer on Louie, as well as her voice-over work on King of the Hill. But now she's in a category with some of TV's biggest comedic names, and that's not lost on her: "My heroes! My heroes! I mean Jane fucking Fonda? I can't even. Lily Tomlin, Julia [Louis-Dreyfus], Allison Janney, who is one of my closest friends who I adore; I love Tracee [Ellis Ross.] Too bad about [Issa Rae of Insecure]. She texted me congratulations and I said, 'You're next baby.'"
Adlon sees the nomination as an opportunity for more people to notice her show about an actress balancing raising three daughters, which returns for its second season in September. "It means I have the opportunity to keep working and telling stories and having a life and career and providing for my family, and that people will listen hopefully," she said. "It just means so much. And to make my network proud, do you know how good that feels? I've been working my whole life as an actor, so to be recognized as an actor is maybe even more meaningful."