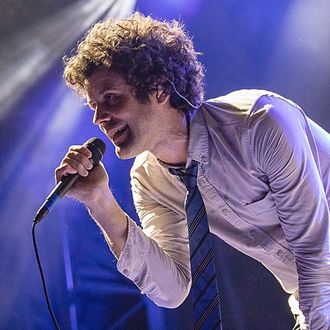 Passion Pit.
Photo: Rick Kern/WireImage
On Sunday, Passion Pit's Michael Angelakos alarmed fans with a series of tweets implying that he was either going on hiatus or quitting music altogether. "Until it is safer and healthier for us to be advocates, to be writers, producers, and performers, I simply cannot continue making music," he tweeted. Angelakos said that juggling support for mental-health awareness and artists rights on top of making music was beginning to feel contradictory. "You're either committed to it or not. To raise awareness one moment and announce a show the next doesn't help me. It hurts me. And others," he continued, also noting a need to prioritize treating his bipolar disorder. But in a candid statement to Pitchfork, Angelakos reassured fans that Passion Pit is not going on hiatus, but he will be recalibrating the way he navigates the music industry. In order to focus his "full attention" on his organization the Wisharp Group, which Angelakos started this year to assist artists with legal, educational, and health-care services, he'll be stepping away from the rigors of being a "commercialized artist":
I cannot continue to operate in this space, this industry, due to the way that it functions and treats people that work for it or create within it. It does nothing to promote the health required in order to produce the work it sells. The risks associated with being a commercialized artist and embarking on a typical album release, like endless promotion and touring, have nearly killed me. People often throw these words around casually as well, but when I say that these requirements have nearly killed me, have killed many people, and continue to kill people; I am not stating a fact. I am speaking from a very real and personal place. I live this, and I watch other artists struggle with the friction between their health and their art.
Angelakos plans to "advise other industries and do any work that is required at this current juncture until I have achieved certain goals and helped build a new system." Last year Passion Pit announced and subsequently canceled a tour, but Angelakos says there's more music coming: Tremendous Sea of Love, which he self-released in March, is getting wide distribution this week. Angelakos is also releasing a "stripped-down" remix of his second album, Gossamer, in the "near future," and reissuing some of his earlier work. "Passion Pit isn't on hiatus, it's just evolving, like anyone and everything else," he writes.