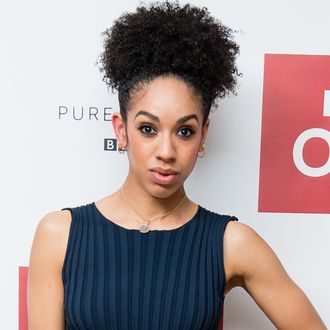 Photo: Jeff Spicer/Getty Images
Pearl Mackie's Bill Potts ended the show's tenth season thinking that the Doctor was dead, his body laid to rest in the Tardis.
She was off to have her own adventures traversing space and time with her new companion, Heather, and it was unknown whether or not she would return for the Christmas special to say a proper good-bye to Peter Capaldi's Doctor before he, too, left the series. Today at Comic-Con, Mackie confirmed during the show's panel that Bill would indeed return, and the brand-new teaser for the Christmas episode stirred up mass hysteria when it rolled in Hall H with Bill rushing into the frame. But as much as it will be her good-bye to the Doctor, it will also be her good-bye to the fans, as Mackie will end her run with Capaldi.
"That's it," said Mackie. "The Christmas special is your last chance to see Bill. But I mean, hey, it's Doctor Who, so never say never."
The fan favorite also reflected on her time with the series and expressed her gratitude to the Con faithful. "I don't think I was prepared for how powerful the Doctor Who fandom is," Mackie explained. "It's an incredible thing, and it's such a gift to be able to be part of this family. This is wicked. Thanks for having me."